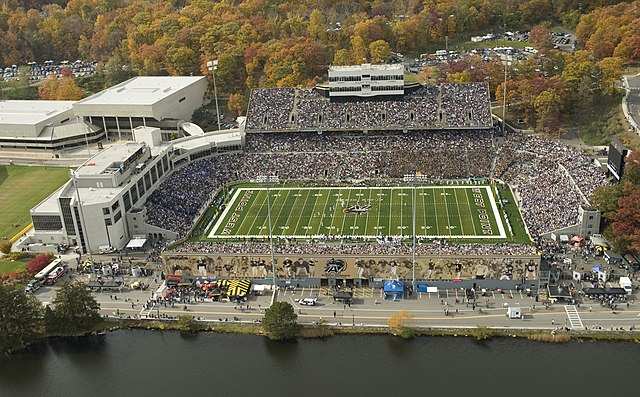 It was long ago, and not that far away, in a time well before anyone understood "Sweet Sixteen" as a basketball reference. In the late 1960's my dad would often take myself and my brother to the United States Military Academy at West Point. We attended many events at the Point at a variety of venues, but basketball games at the old "Field House" were our favorite. The three of us got to observe the pomp and circumstances of a "full dress parade", we saw fall football spectaculars at Michie Stadium, we were there a day in the spring of 1968 when Mickey Mantle hit a home run off a pitching plebe in a spring exhibition game the Yankees played at West Point on an annual basis. I don't know where he got the pull but my father even got myself and my brother to eat a meal in the Army mess hall. For years later we would have a blast mimicking the fork to mouth ritual the cadets endured. As a young eight year old I fell head over heals with the idea that someday I would walk among the echoes of Generals at the place where future leaders of the world were developed. Even at that naive age I was practical enough to realize I was not West Point, or any kind of military, material. There are very few things in my personality that have not evolved to some extent. One of those exceptions is the concept of taking orders from authoritative figures, with no questions asked, was never going to work for me.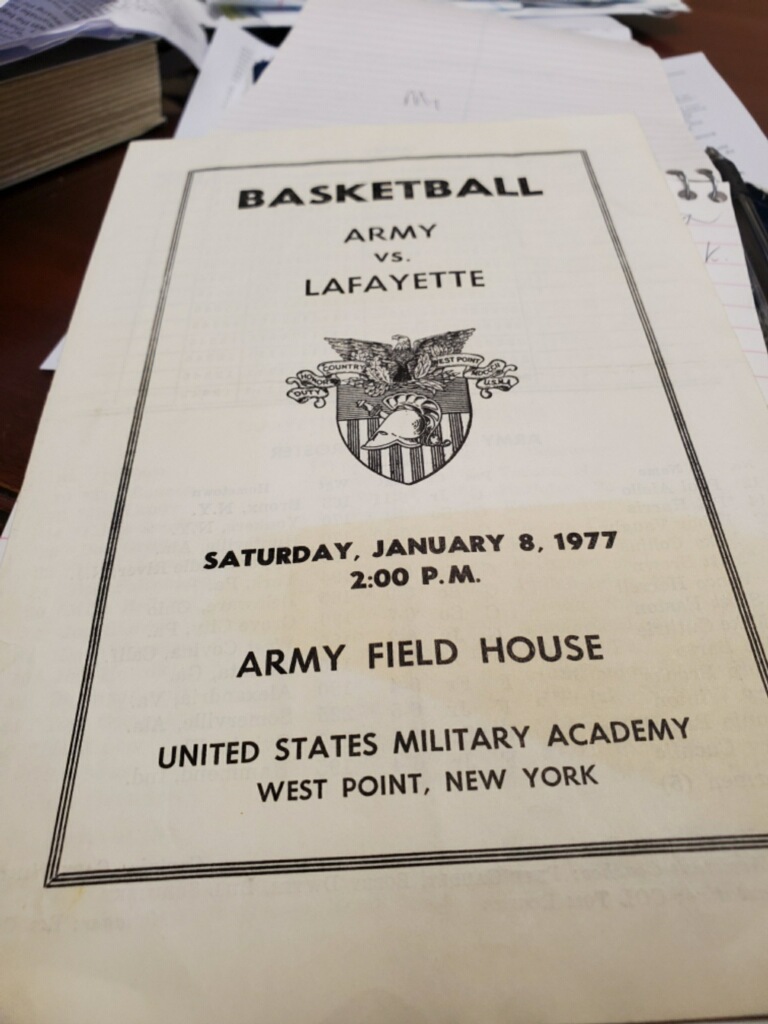 Up until 1982 Army's men basketball team played in what looked like a dilapidated barn. The Gillis Field House was built in the early 1900's, and since being refurbished is still used by the Army track and field team. My family always referred to it as the "Old Field House". I recall feeling a large adrenaline rush walking to games through the blustery winds coming off the Hudson River that bordered the "Field House". The first time I entered the building I was surprised by the overall vastness of the darkened building. Off in the distance were bright shining lights that I immediately recognized as the arena. Before making our initial trip to an Army basketball game my dad prepped myself and my brother on what to look for. "They have this very young guy who gets extremely excited on the sidelines as their head coach. He rants and raves at his players, the officials, and anyone else who would listen. I hate to say it, but I love the way this guy coaches his team." It was 1968, I was eight years old, I was going to turn nine the next day. Walking towards the light of the Basketball court I felt like I was in my own personal Magic Kingdom. "Hey, Richie keep a close eye on the Army coach tonight." The coach he was talking about was a 25 year old kid in the infant stages of becoming one of the great coaches to ever lead college basketball teams into battle: Robert Montgomery Knight.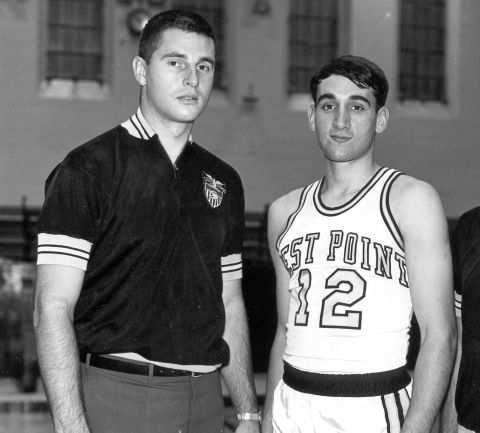 I followed my dad's advice and checked out the spectical that was Bobby Knight, but there was another person in the building who made a far greater impression on my influenceable self. A lean, awkward looking kid with a oversized beak would turn out to be who I talked about on the car-ride home. "Did you see that guy 'sheshefski', both his knees were bleeding from floor burns." The 'sheshefski' I was talking about was Bob Knight's senior Captain Michael William Krzyzewski.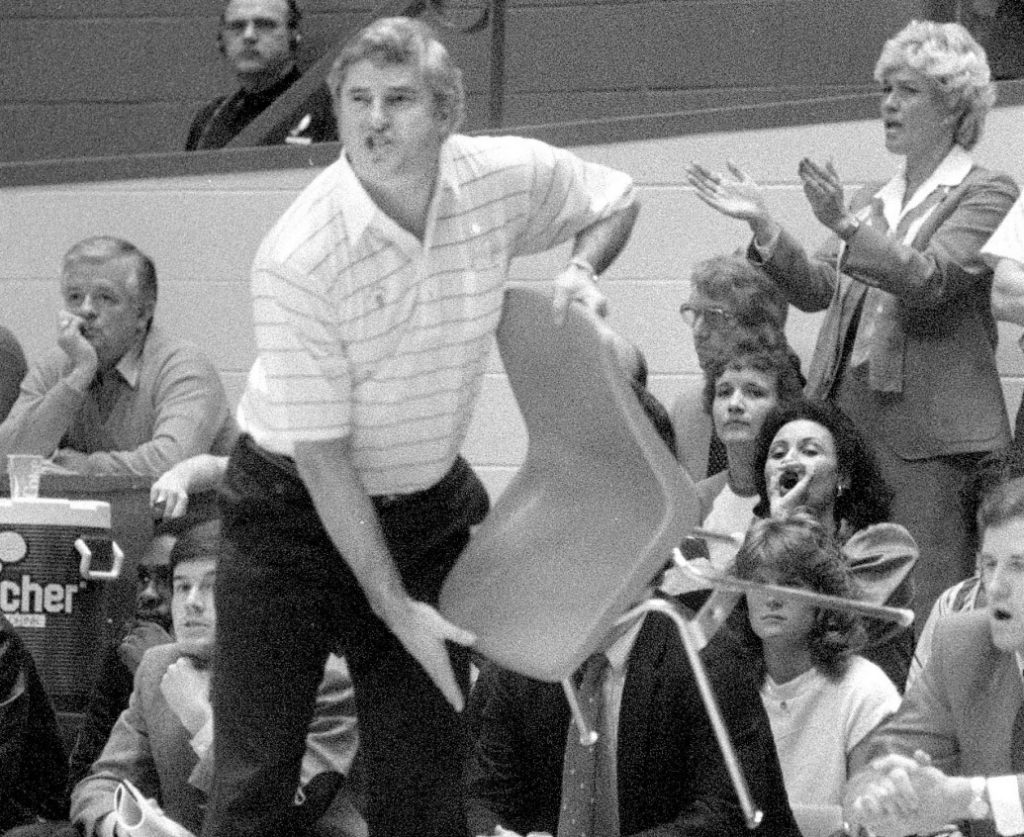 Yes, that's correct, the cadet's name was Mike Krzyzewski who would go on to be the greatest college basketball to ever lace 'em up. Mike Krzyzewski came of age on the hard streets of Chi-town, ending up being the first recruit for a man who would come to be known as 'The General". Once you understand the historical connection between the two men you could fairly deduct that the famous Coach K. was bore from the womb of one Bobby Knight. Although the two would be tied at the hip for much of their careers the record books will clearly say that the pupil reached a higher mountain top than his mentor's best day. On that ride back from West Point on that long ago January night there is no way we could have imagined that we just witnessed two kids who would go on to be arguably the number one and two greatest teachers of the game of hoops in a big old barn hanging on the edge of the Henry Hudson River.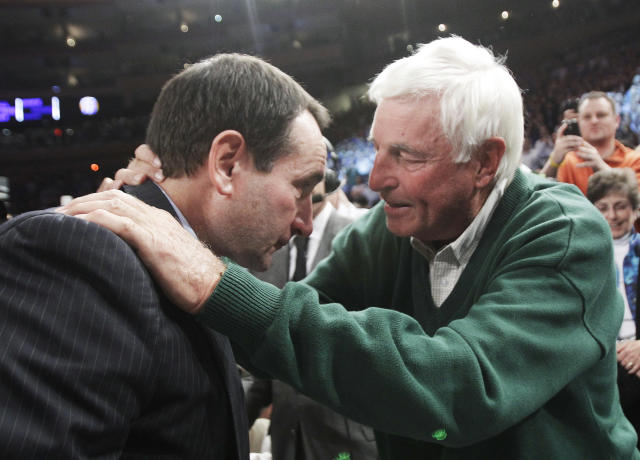 This coming week-end Captain Mike Krzyzewski, West Point alum. with the big snooze has his 42nd Duke Blue Devils roster headed for the final four for the 13th time. Mike Krzyzewski, now 75, announced his retirement as basketball coach at Duke University before this season began. After completing his military duties in 1973 Coach K. spent one year working as an assistant at the University of Indiana under his mentor Bob Knight (1974-75), five years as West Point's head coach (1975-1980…. his record at Army was 73-59), and the remaining 42 years at Duke (1980-2022…. record at Duke 1,129-308, overall 1,202-367). In those years Coach K's teams won five National Titles, 15 Conference Tournament Championships, 13 Final Fours. His win number stands at 1,202 which is the most of any men's NCAA basketball coach in any of the three divisions. Most casual hoop fans are aware of Coach K.'s record of brilliance in terms of victories and championships, but few know that his roots were grown on the windy tough streets of Chicago and the United States Military Academy at West Point. Somebody better get started now if they think they are ever going to touch the incredible resume he built.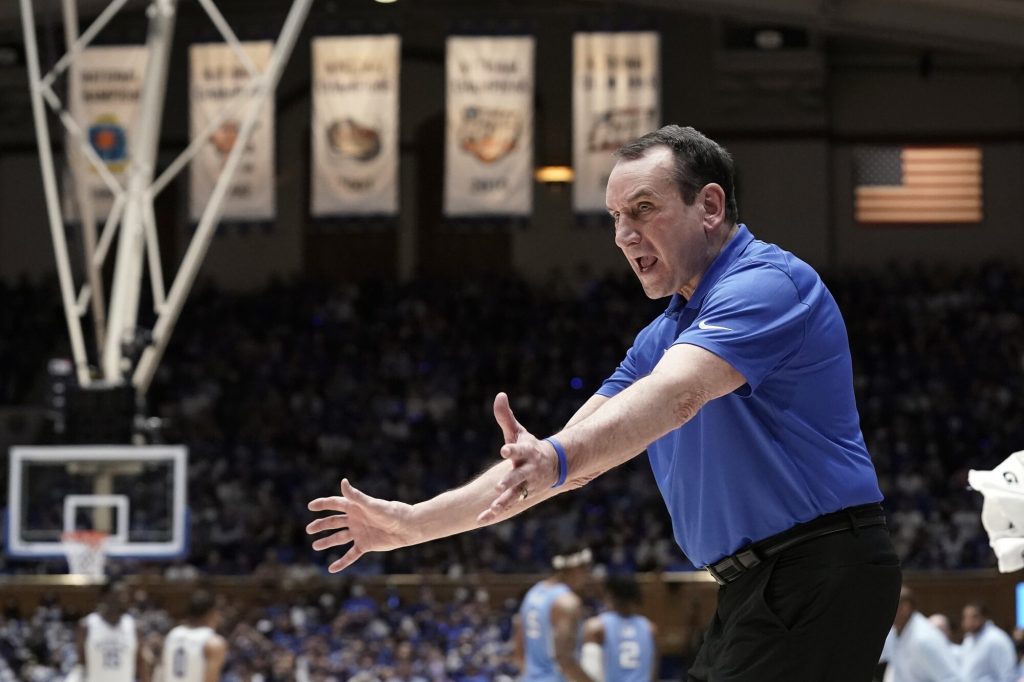 Growing up in New Paltz, New York we were a 45 minute car drive to West Point. In the time span from 1975-1980 I found my way to the old Army "Field House" probably 20 times. It was on these occasions I observed a 'Maestro' in the making. I've been a big fan of the hardwood most of my lifetime, I played college hoops at the Division III level, and coached for seven years in the public school system. Still, to this day I never witnessed any coach who could take any group of lemons he was given and make great lemonade.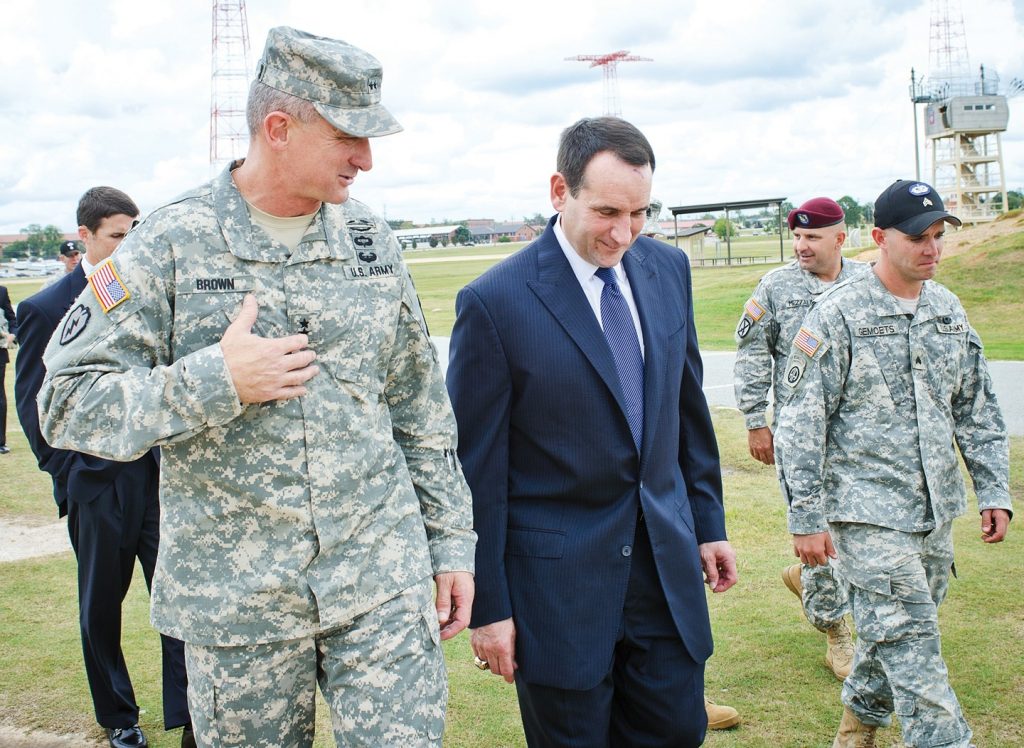 Mike Krzyzewski teams at Army were in better condition, better drilled, more prepared, and played the most consistent defense than any other team I observed in my trails as a basketball connoisseur. Back in the late 70's and early 80's I was convinced my future was as a teacher and basketball coach. I thought as a coach I wanted to be a blend of General Bob Knight and his star pupil. Every game competed for in the "Field House" was filled with off the charts intensity. The energy that the Army team put out overflowed to the 5,000 fans that packed around the make-shift basketball court. My favorite part of attending the games came about five minutes before the tip. The Black Knights locker room was located in what appeared to be the rafters. The players would be on the court finishing their final warm-ups. From a place high in the air a single figure could be seen making his way down the longest staircase in the entire universe. Coach K.'s attire included a thin 1960's tie, a crew cut hair style, and a royal blue suit. The hair on the back of my neck would rise as the new young General sauntered to the battle field in front of him. The crowd roared but I was sure Coach K. couldn't hear a sound.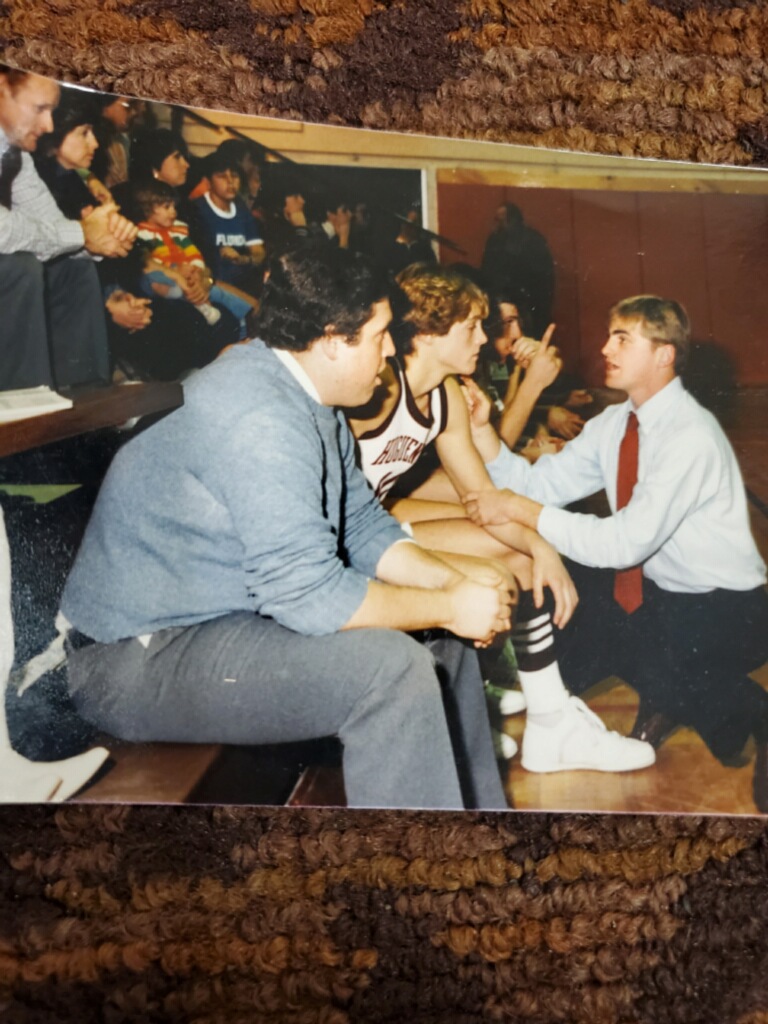 This week-end the final four tips off in New Orleans and the big story is Coach K. hunting for a "swan song" sixth National Championship. My compulsion for professional and college sports has waned in the past decade, but Saturday at 8:37 pm I will be glued to my television rooting hard for one more game Monday night. To get to the final on Monday Krzyzewski's Blue Devils will have to find an answer for Coach K.'s long time nemesis, and Duke's arch rivals, the North Carolina Tar Heels. If ever there was a more anticipated college basketball game I can not recall it. When Coach K. moves towards the bench to do his duties, for possibly the last time, I will not see a bloated, limping, 75 year old grandfather sprinkling positive energy everywhere as if he were the zen master "Yoda." My eyes will look past the screen in front of me and back to my formative years where I'll see a Black Knight wearing number 12 diving right at me going for a loose ball. I'll see a 27 year old man pounding his palms on the floor imploring his team to find an even higher level on the defensive end. I'll see myself in the "field house" as a little boy focused on the bench jockey's every move, thinking that one fine day I would be coaching a team with the same unlimited passion of Mike Krzyzewski. Still, today when I visit "The Point" I hear the echoes of the great Generals who made their bones on the shores of the Hudson. I often reflect on the band of legendary coaches spawned at Army: Vince Lombardi, Bill Parcells, Bob Knight, and Earl Blaik. Now the kid from Chicago is walking away after 50 years of working his craft with more efficiency than all that went before him. Late Monday night, in the bowels of a New Orleans arena, after winning his sixth National Championship, a reporter will ask Coach K. where he honed his skills. I think the old Captain in the Army will give the reporter his classic friendly smirk before saying: "A old barn down by the river."