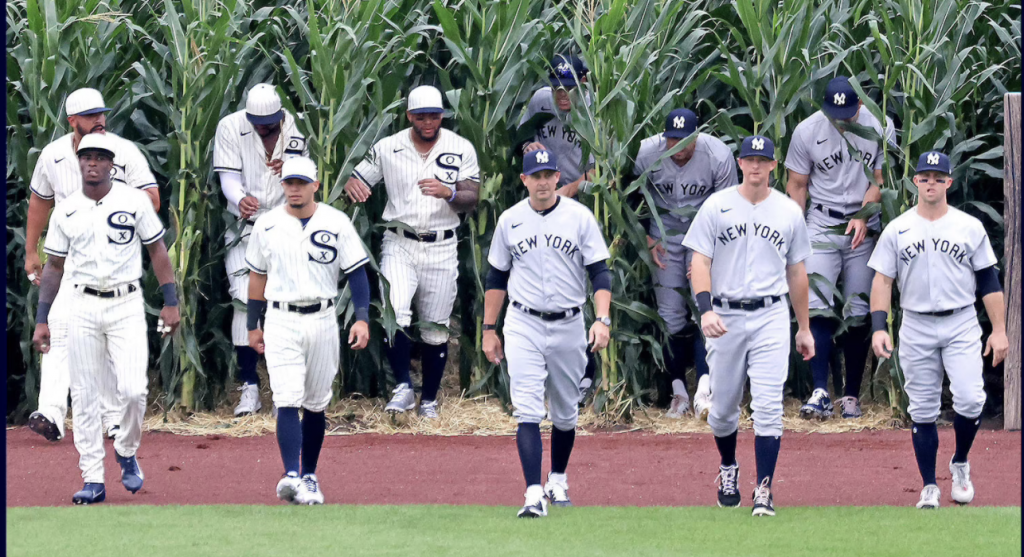 It was an "old school" August night in Dyersville Iowa. For the first time in many moons it felt like Americans were ready to meet in the middle to share in the glory of this country's most formidable pastime. Major League Baseball was looking for a way to ignite a spark into a game that has passed many of us by. It was around 7:20 pm est. that members of the present day Chicago White Sox and New York Yankees came walking out of an Iowian cornfield stepping into America's field of dreams. In the season of reality T.V., which is nothing more than staged drama, baseball was finding a way to bring us all together for a magical night of nostalgia. I was on the edge of my seat thinking about the times I had catches with my father in the backyard. I thought about those twilight summer nights when my little league team fought in life and death battles with our arch rivals, the Red Sox, only to end up sharing an ice cream at J.D.'s after the game. When Kevin Costner (he played the role of Ray Kinsella in the 1989 Movie Field Of Dreams) emerged from the cornstalk I got chills running up my back on a night the temperature was in the 90's. All eyes were on the perimeter of the cornfield that led to baseball's warning track believing that maybe "Shoeless" Joe Jackson or John Kinsella would come strolling out for one more game of catch and throw.
Baseball remains America's great pastime. The green glittering diamond of a baseball field on a muggy August night in the middle of this broad country, stood as a symbol of unity. For one summer evening in the year of 2021 baseball would be beating the combined ratings of FOX News and CNN. There was a choice between watching updates of government scandals or the White Sox/Yankees, the first ever Major League Baseball Game played in the state of Iowa. It was an easy decision to make. The movie Field of Dreams, the best film and most universal ever made about baseball, was able to capture the hearts of all people despite political affiliation. The film centered around a hawkeye farmer (Kevin Costner) who was struggling to keep his farm afloat. Costner's character Ray Kansilla kept hear voices "Build it, and they will come." The "it" the voices were talking about was a baseball field. Ray constructed a baseball field on prime agricultural land without really understanding why he was doing it. After a long search as to the motive of the whisperings in his ears Ray finally had his answer when former White Sox outfielder Joe Jackson walks out of the cornfield and into centerfield right before Ray's stunned eyes. In angelic fashion Jackson asks Ray, "Is this heaven?" Ray smiles, "No, it's Iowa." Then "Shoeless Joe" seeks permission for a bunch of his buddies ( former players from the White Sox of team of 1919) to use the field.
In the movie it turns out Ray's father (John Kansilla) had dreamed of being a professional baseball player. The fact was that Ray's fathers dream never came to fruition. Flash forward to today and the Chicago White Sox were battling the New York Yankees on the field Ray had built. For one night we got to go back in time to a ballfield that wasn't decorated with sponsors slogans. There weren't any flashing lights on the make shift score board that was hand operated located in the middle of the stalks. There wasn't out of town scores, or players batting statistics, or the pitcher's velocity. The annoying clutter that that is plastered across the modern day huge computer boards was completely absent. The game wasn't being played in Coors Field, Chase Field, Tropicana Field, or Target Field. This game was unfolding on a field of dreams in front of 8,000 fans sitting in a grandstand from a time before anyone of us had been born. The dreaded replay was absent form this game. It was a pleasure to see the game wasn't delayed to check a video that gets it wrong more the humans. The box that judges the umpires ability to call balls and strikes correctly was also gone. It sent a message to me loud and clear that the beauty of baseball is the human element. Our national pastime is a real metaphor for life, not an algorithm.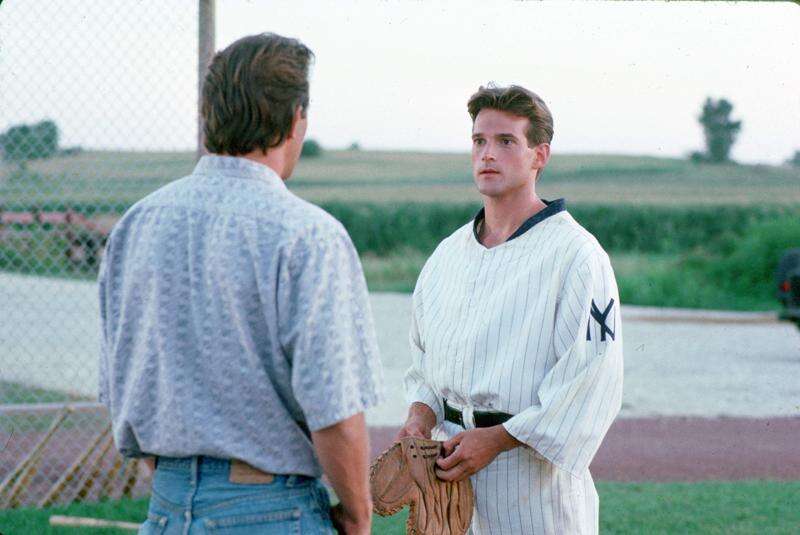 I hadn't watched a baseball game in its' entirety for years, tonight my eyes were locked on every pitch. Through decades of labor strikes, player hold-outs, franchises abandoning their cities, arbitration and steroids, we all finally focused on the purity of the game. And what a game we were treated to. There were five lead changes and eight home runs that disappeared into the endless acres of gold and green. One blast sailed in the Mid-American colored sky landing at least 20 rows deep. A walk off homer sailed directly into the lore of baseball immortality, giving the White Sox a 9-8 victory in the most watched regular season game in the last 16 years. I was watching the game with my 25 year old friend, who was a pretty good ballplayer in both high school and college. It surprised me how impressed he seem to be in the presentation of the spectical. He's a hardcore Yankee fan who after suffering a tough defeat said, "That was the one of the best games I ever saw." I told him 'the same for me', especially since the Yanks loss. We both thought baseball had gotten it right in the way they presented this unprecedented night. Of course, I had a few impractical suggestions about how to make this one special game even more interesting. Try to picture the field without an outfield fence. The ground rule is that all fair balls are in play everywhere. I wanted to see Rob Gardner desperately chasing after a baseball into an Iowa cornfield.
In the end I tip my cap to Major League Baseball a night bringing us back to our childhood days for a night , when our summer evenings were full of the sounds and smells of baseball. I imagined myself sprinting our backyard baseball field. A, mystical place where the dads gathered with their sons and their daughters for the a neighborhood game before our moms would call us in for dinner. All the way back when I was seven years old playing with my dad, my brother, and all the big kids who lived on my block. There was Chuckie Bouton and Glenn Littlefield, both of whom went on tho have great high school and college careers in baseball. There was Rowena Burgess, my first grade crush cheering on my team. I was by far the smallest player on the field, yet I was convinced I was dreaming the biggest dreams. Today, I don't live far from that old lot behind my early childhood home. The field is gone now, instead, charming houses with kids playing in their contained areas. Sometimes when I drive by the old neighborhood I recall the feeling of fearlessly jumping high and catching a line drive in the webbing of my dads old glove. I hear my mom calling us in for dinner. I never wanted those nights to end. Thank you Major League Baseball and Dyersville Iowa for driving us back to summertime and the field of our dreams.