It was mid November of 1985 and it was the first day of varsity basketball practice for the Huguenots of New Paltz High School. There was new young coach in town, barking instructions, encouraging, and conjoling, determined to make a good first impression. Equally intense, trying to do the same, was a group of 40 wanna be hoopsters ranging from freshman to seniors. Whether for better or worse it was apparent this neophyte mentor was ready to put his own stamp, and bring a novel approach to the New Paltz High basketball program. The gym was locked off to all observers and there was not an actual basketball anywhere in sight. About halfway through the three hour practice you could hear the 25 year old coach screaming, "This is the stance you will be in on every defensive possession," as he dropped into a squat. "You lower your butt down, keeping your back as straight as possible while your head and palms are in an upright position. Pretend you are about to sit on a cold toilet seat." In the middle of this offensive defensive dissertation one of the potential candidates had the gumption to burst out a simple inquiry, "Hey coach are we ever going to play some basketball? I'm at the right try-out? This is basketball practice? It was my initial introduction to Oliver Spencer, who the next day would be known to me from that moment on as "Ollie."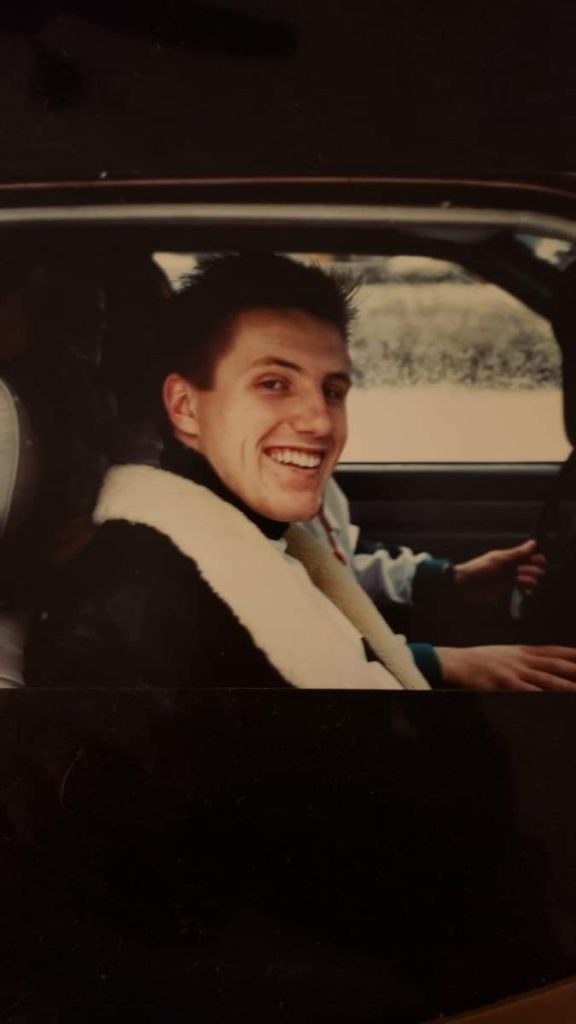 That effusion didn't get our relationship off to a good start. Yet, it didn't take more than two practices to figure out that if I was ever going to be accepted as the voice of this team the first step was going to start with Ollie. In a subtle way I understood quickly that the way to this team's heart was going to go through Ollie. At the early examinations of my new team Oliver Spencer did not like the kind of player that was going to help New Paltz win games. He wasn't tall, certainly not quick, and most definitely not strong. Judging by those first few weeks of pre-season practice I could not foresee Ollie getting much playing time. Still, I knew he was not only going to make the varsity but he was going to be an important part of everything we did as a team. Ollie loved basketball, his initial wisecrack aside, I was beginning to notice that Ollie was buying into everything I was preaching. More importantly his teammates were following his lead. Despite trying to maintain my distance and tough guy exterior both Ollie the player, and Ollie the person was beginning to impress me.
He worked hard, he listened, he encouraged others, and to my surprise he began showing signs he could play some hoops. As a young teacher I tried to make sure I didn't have favorites, but Ollie was becoming one I admitted to only myself. He carried a huge infectious smile, along with an intelligent wit that no matter how much I resisted I couldn't ignore. "Why did you come back to your alma mater to coach us basketball misfits," he asked me one day in the coach's office. At least he had stopped asking these penetrating questions during practice I thought to myself as I shook my head. "That is a good question, I'll have to think about that one," was my straight faced retort. I chuckled to my myself 'that this kid was going to weaken my image.'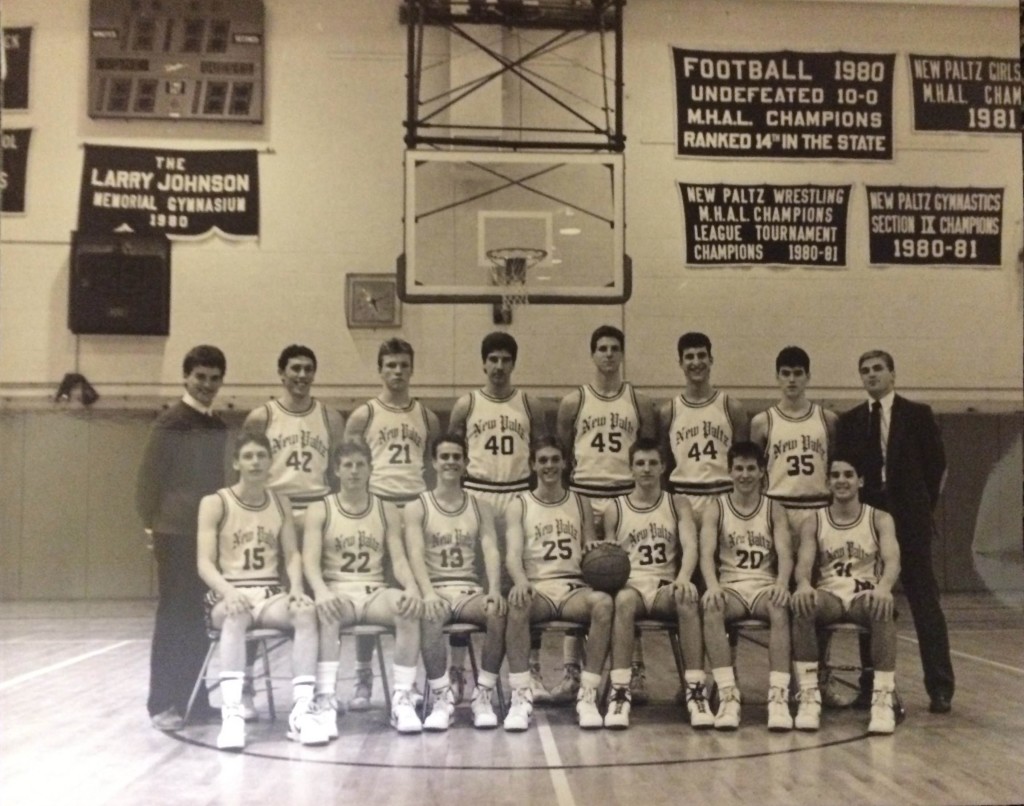 By the time the first game of season rolled around Ollie had earned a spot in the starting five. I never asked why him he picked number 33 as his jersey number, I can only guess now it had something to do with a guy named Larry Bird. That first season at New Paltz was a true test of everybody's involved patience, as we were only able to win three games. Through our struggles Oliver Spencer emerged as one of the better players on the team and it was apparent he would have to be a key component if we were going to improve our record in following campaign. "Ollie you have to play in pick-up games everyday, lift weights, and stay out of trouble," is what I told him going into the off season. "You're going to be one of the captains next year so it is important you set a good example for our younger players coming up in the program." Everyday, from the day after our last game, Ollie would drive his dilapidated light brown box of a car from his grandmother's house in Rosendale (where he resided) to New Paltz College to get in his hoop runs. I would stop by some nights to watch him honing his skills via the only avenue possible; playing against better competition. Two things happened on those spring evenings: Oliver was developing into the best player he was capable of, and the two of us struck up the beginnings of a friendship.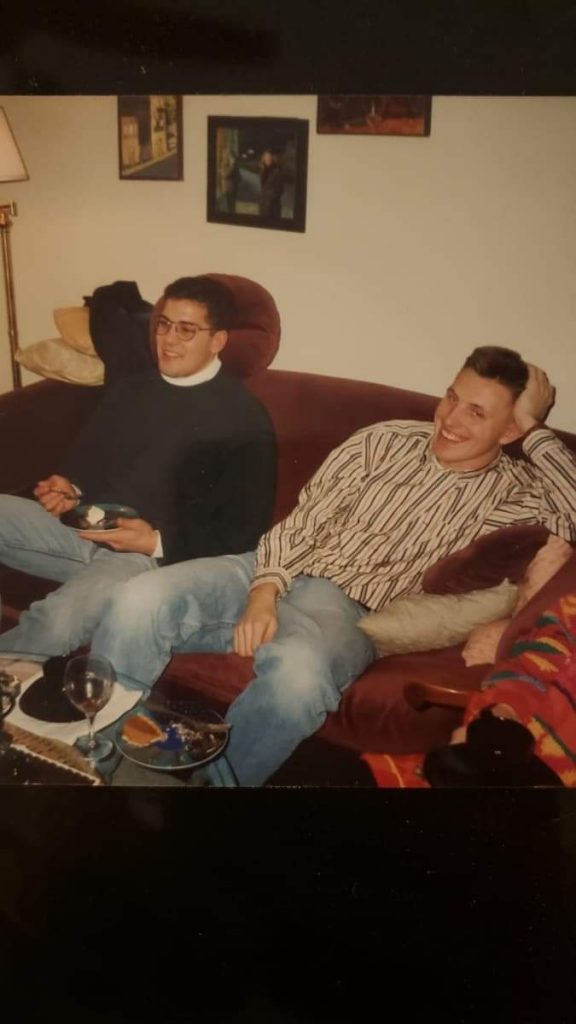 The following season with Ollie leading the way we won eight games, including a couple of monumental upsets over Wallkill and Ellenville. If not for a few distractions it could have been even better. The kid with limited tools and talent had a good career. He started every game we played during his junior and senior years. Our connection had been built around basketball and now only time would tell what the future would be like for the coach and player going forward.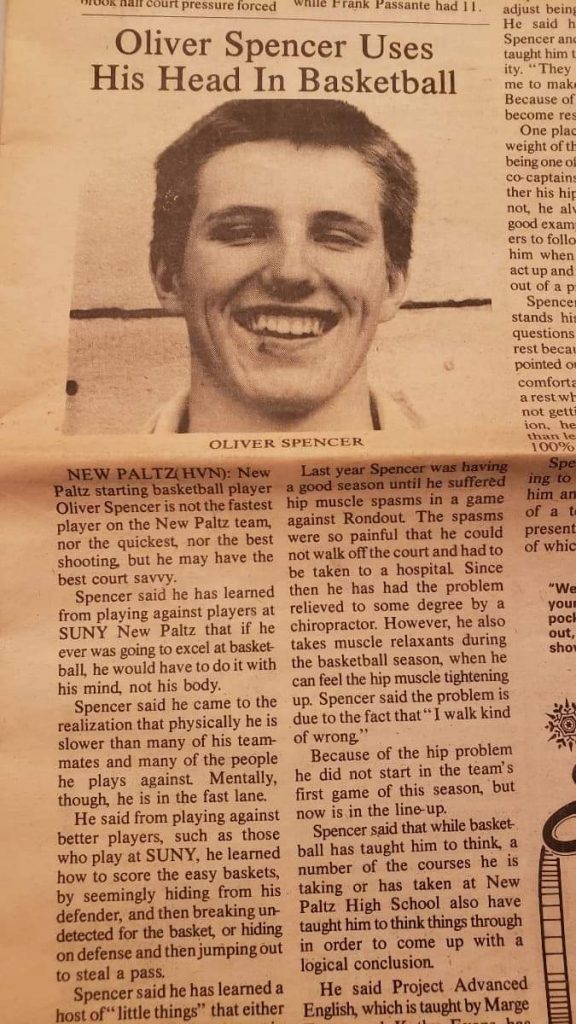 It wasn't till our attachment to basketball was over that I began to become acquainted with Ollie's personal history. The genesis of our relationship took root in the spring of 1987 when myself and my former student went to Boston together to have a tour of Boston University where Ollie had been accepted. Ollie's biological parents, I learned directly from Ollie on that trip, were everything but conventional. During his years playing for me at New Paltz I only met his mom once and still have never laid eyes on his dad. This is not to say Ollie didn't love both of them deeply, because he did. His mom was a flower child of the 60's who Ollie would readily describe as a "classic hippy." His dad was of the same ilk and even less committed to being a full time parent. One would think with that kind of parental foundation Ollie could have turned out as a bitter, neglected, and angry young man. It was the opposite; he wore an impressive grin constantly, he had a keen wit to him, he was wise beyond his years, he was the life of the party, and without a doubt the most popular person in every room he entered. Beyond his effervescent persona, he was an excellent student, intelligent, well-read, and a person that I could talk to about a variety of subjects ranging from movies to politics. Ollie loved people and people loved Ollie. After that trip to Boston I was sure the two of us would be loyal lifetime friends. I found a confidant that I could speak as myself about everything (with the except basketball lol) and knew that my secrets were safe. There isn't a former player that I had a closer off the court relationship with than Oliver Spencer.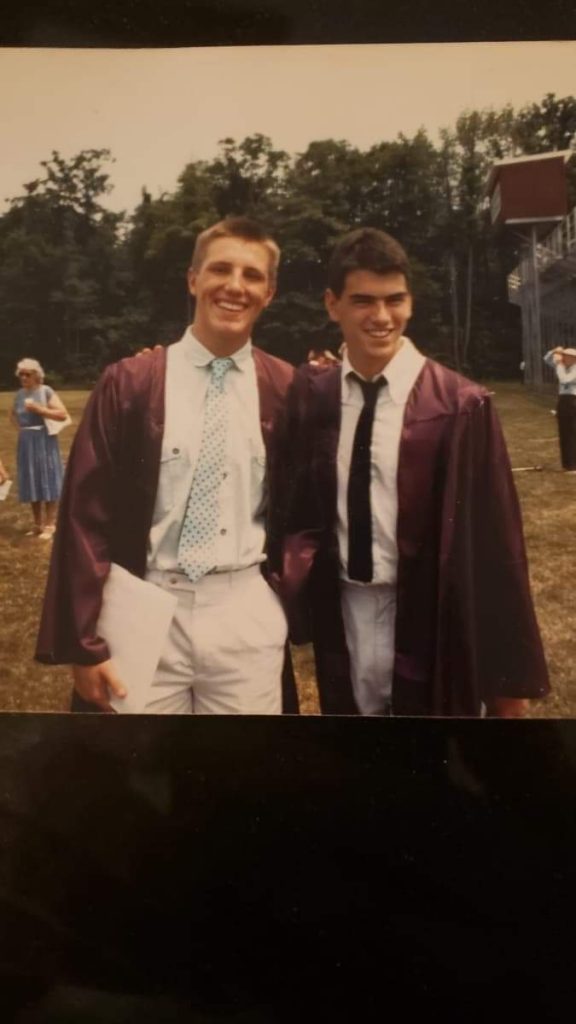 Shortly after he graduated from Boston University Ollie moved to North Carolina. Besides distance, all the life events like marriage, careers, kids, and daily obligations got between our bond for many years. I abandoned teaching and was forced out of coaching at New Paltz. I started a new career in the business world while Ollie started his own ventures in the entrepreneur and purchasing spectrum's. I believe his first get rich quick scheme was a basketball clothing catalogue that he started with former teammate Cael Lewis. I am not positive but I might have been their first client when Ollie called me up to say "Hey Rich, it's been a while but I just ordered you 10 sweatshirts and 10 tee shirts that say C.O. Hoops on them."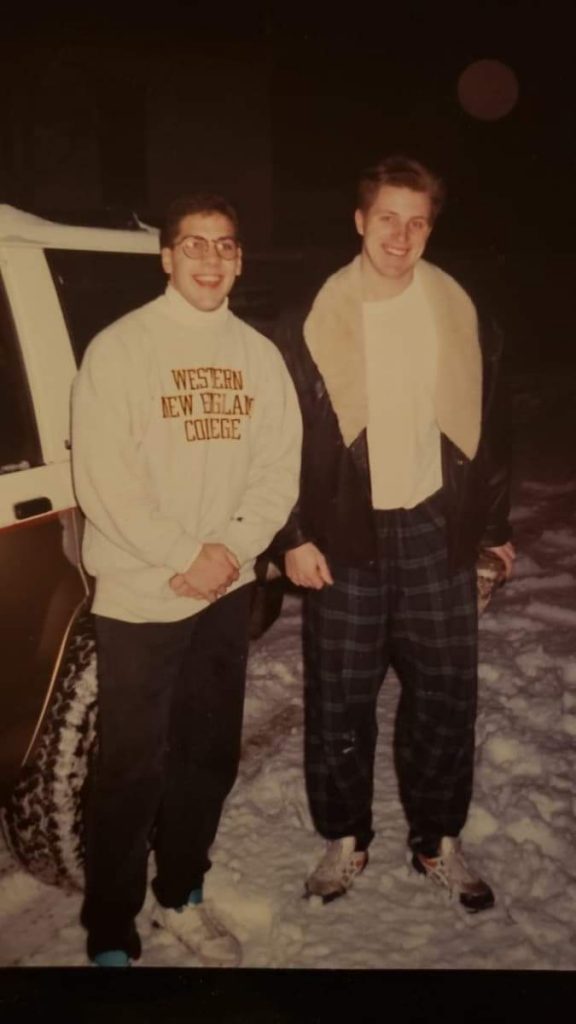 Ollie eventually got hitched up and his marriage lasted 1 year without any offspring. We weren't communicating much in those days but when we did I would tell him he would make the perfect father. At such an early age he understood so many lessons in life that the rest of us our still learning. Boy or girl, healthy or weak, an athlete, or a quiz bowl all-star Ollie's kids would have been independent, smart, empathetic, with open minds, and certainly the life of all parties. Ollie's great gift was his mastery of how to love, and how to be loved in return. Unlike hoops, which Ollie had to work at, love came easy for Ollie. Myself, being the classic cynic, asked him one time 'how do you do it, how do you get everybody to love you, and in turn get everybody to love you back?'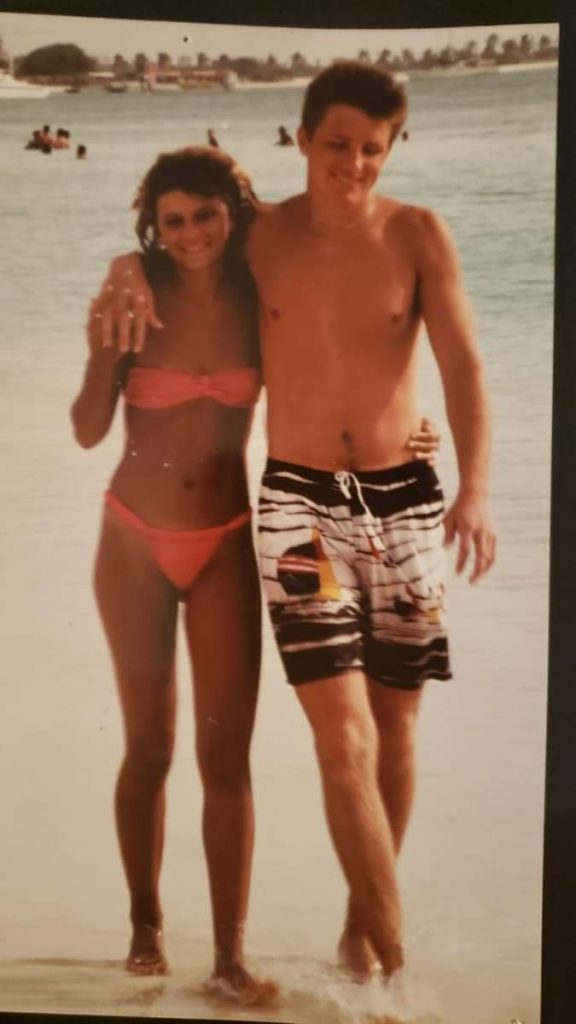 He shot that smirky huge grin at me, "It's easy, I'm actually a big phony." That was Ollie, always real with a tongue in cheek twang. He had a special way of turning a phrase that made you laugh, and also think about an inner meaning.
Last summer the two of us met up in downtown Manhattan. He was in the "big apple" for medical treatments related to a cancer that had invaded his body the year before. Ollie picked a cafe right off of Christopher Street on a mid afternoon bright august day. I hadn't seen him in person for at least five years, the noticeable weight he had lost only made his gigantic smile look wider. Seeing him come through door, light on his feet, looking so positive and vibrant took away any anxiety I had of seeing my old friend in bad spirits. This was the beauty and the pure magic of Ollie. With out stating his objectives Ollie was going to teach his old mentor a few lessons. In our time on this earth everyone yearns to be loved and we want to receive love back. It sounds so easy yet it is one of the universal human quests that most of us can't even obtain let alone sustain. Ollie appreciated it better than anyone I've ever known. Loving people came natural to him, and even when his diagnosis looked bleak nothing could get in the way of the love Ollie spread. We stayed in that café for over three hours, talking about everything that had ever mattered in both our lives. We talked about the hope of the future as if we were still two kids back in school.
When I started to get emotional Ollie cut it off fast with reassurance that he was going to beat the cancer. He wanted to talk about about all the wonderful things we were going to do together in the future. During the period of his medical bout Ollie had been chronicling his tales of his therapeutic struggles and of a life well lived. His stories and themes were gracefully written as if he was chatting to his friends. They were funny, they were sad, they made you cry, but mostly they made you laugh at yourself and this crazy world we are a part of. We shook our heads at the fact that later in our years both of us had found our affection and passion in writing. We agreed to collaborate on a book surrounding our experiences coming of age in a small college town. Ollie was meeting his aunt for dinner and I had a long drive back upstate. We left the café together and walked out into the twilight of a darkening New York City. "I love you man," Ollie blurted out. 'I love you too, I love you too,' I repeated. It was the last words we would speak to each other.