It was getting dark on an autumn Friday evening as the yellow school bus was pulling back into the New Paltz High School parking lot. I still can discern the quiet that completely contradicted any other school bus experience of mine prior to this moment. The players, uniforms on, shoulder pads in hand, filed off one by one. I was sitting alone in the second seat from the front, the coaching staff were the only people between me and the bus driver.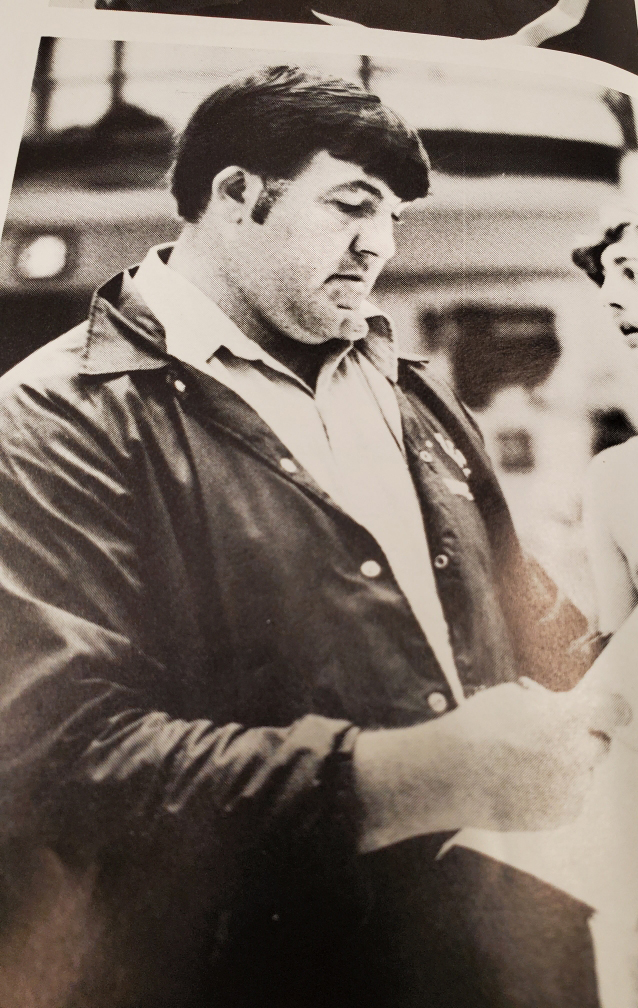 As was the protocol, the coaches watched as each player departed down the steps while searching for their ride home. Within a few minutes the bus was empty except for myself and the driver. "Hey coach, you got a player still here." Coach Freer made his way up the stairs. "Come on big fella," I was maybe 5'2 at the time but coach had a habit of calling everyone "big fella". As the tears were pouring down my face I could see coach Freer gesture to the driver 'to give us a minute.' "You learned a lot today," I could hear him say over my sniffling. "We'll look back on this someday and laugh, you're a good kid, and a good athlete, now let's move on."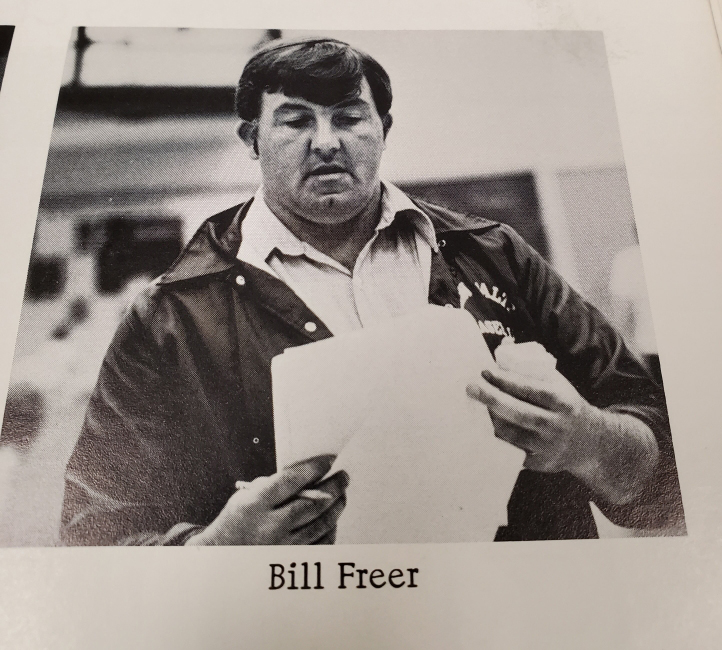 New Paltz High School's legendary coach and physical education teacher William Freer passed away this week after a long illness at the age of 78. From the years 1964-1997 every student who passed through the halls of New Paltz High School could probably tell a story about "Coach". Very few people find their true niche in this life, the ones who never doubt themselves about whether or not they discover their calling. There is little doubt that Coach Freer was born to be a teacher and coach in New Paltz. There was never any pretense with coach, you always knew right where you stood. It took me many years to realize all the valuable lessons I learned by watching Coach Freer do his job during my four years of high school. As a freshman I played on both his J.V. football and basketball teams. He was my physical education teacher all four years. In high school I spent most of my gym time with him learning how to read the racing forum and discussing the plight of his beloved, stuck in a 1970's quagmire, New York Giant football team.
It wasn't until I became a teacher and a coach myself that I began to appreciate the essence of Coach Freer. Coaches in high school become father figures to many of the athletes and students. In some instances great coaches replace the father as a role model and confidante. Coach Freer had a style that was totally unique to himself. When crazy coaches like myself modeled themselves after the likes of Bobby Knight or Bill Parcells, Coach Freer was totally an original. His natural personality was easy going and amicable. Before the term "players coach" was fashionable he was exactly that. He believed in second chances, of letting the athlete learn from their mistakes while he subtlety held their hand. You knew he was there for you while never allowing himself to get inappropriately close. Better than any coach I ever played for Coach Freer saw that coaching and teaching at the high school level is a long game. That the lessons of athletics went well beyond winning and losing. He was a voice of reason and common sense to thousands of students and hundreds of athletes in his 35 year career. It seemed to me that he consciously did not let him get himself get too "high" or too "low". As a young coach he understood that there were years he would have great teams and years that the results would be lean, yet in either season he would maintain the same demeanor and treat each athlete with equal respect. His biggest strength was his consistency. He was a constant in all our lives, the steady "Big Fella", who was always there for you whether you were on his team or not.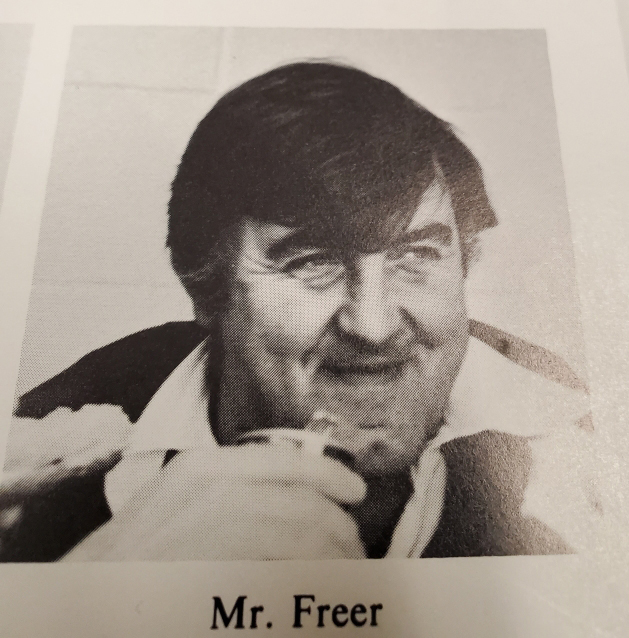 Coach Freer bled New Paltz maroon and white his entire life. He was a star athlete for the Huguenots in the early 50s when he lettered in four sports (football, basketball, baseball, and track). I have heard New Paltz historians claim that he is the last Hugie four sport varsity letterman. Baseball was his biggest passion of all the sports. After being all league at New Paltz he went on to be a catcher for the Cortland Red Dragons where he earned his bachelors degree. After college Coach Freer returned immediately to his hometown to begin his career in education and coaching. As the head baseball coach at New Paltz he won several UCAL, MHAL, and sectional championships. As the assistant head football coach to John Ford he was instrumental in two undefeated seasons; my senior year of 1977 and in 1980. The latter year Charles Davis was the quarterback who I heard coach say "was the best athlete he had the privilege of coaching."
Later in our years us ex jocks look back at our coaches and we forget a lot in terms of specific games but think more of what we took away from our mentors. It was the winter of 1976 and the J.V. basket ball team was practicing the press breaker in the Middle School gym. I recall a lady with tinted red hair coming in through a door that had been closed. She walked up to coach Freer and handed him a set of keys. They chatted for less than a minute and she was gone. I never saw the woman again and I don't know if coach did either. What I did know was Coach Freer had two young boys, (Matthew and Michael) that as far as I know, he raised by himself in an apartment over Gardner's Ireland Corners Restaurant. For me that is his greatest legacy, yes he had many athletes who saw him as a father figure, a mentor, and an ear to lean on. But there was never any doubt about where Coach's heart was. Matthew and Michael is where Coach Freer did his greatest work.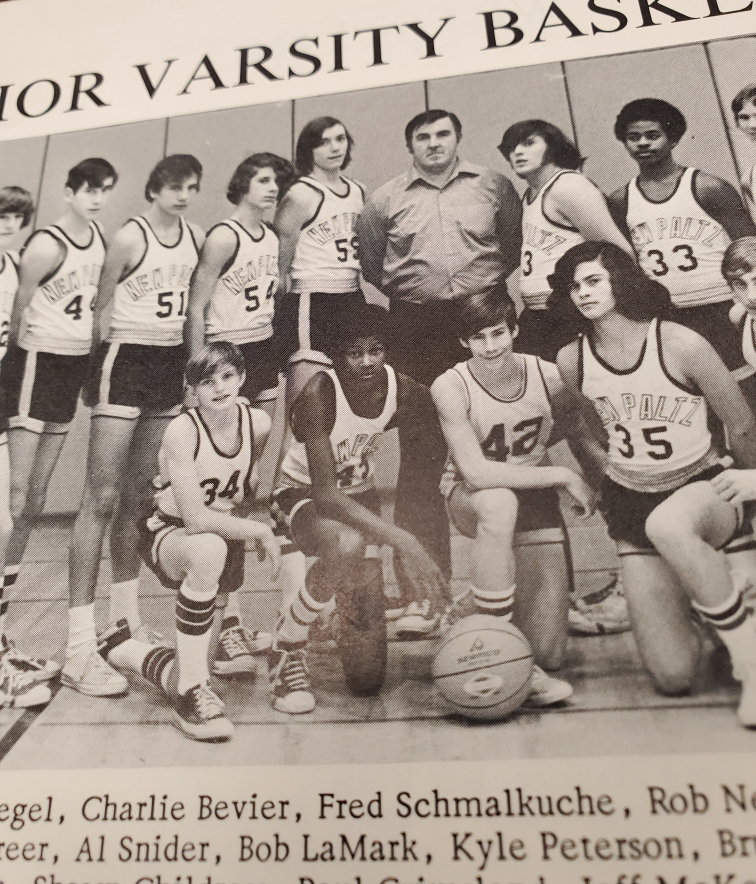 As the years passed I would bump into Coach from time to time, and always have a nice reunion, catching up on our families and the old days. The last time I saw him was about five years ago. It was at a high school basketball game in Kingston. Coach Freer was with John Ford sitting together in the back row of the bleachers. I had been fired from my job earlier in the day and looked forward to talking with a couple of my old mentors. I didn't see much of the game that night but I laughed harder than I had in quite sometime reminiscing with the veteran coaches. 'Hey coach, do you remember the game at Rondout when Kyle Peterson was sick from school and I had to start at quarterback?' Coach Ford wasn't there that day long ago but he must have known the story because the two them started laughing hysterically. "I think that was the maddest I ever got in all my years in education," started coach Freer. "We we losing 14-0 and had the ball down on the goal line. I sent in a 943 crossbuck to the tailback, Randy Freer (no relation) and the next thing I know you're handing the ball to Dino on a 50 blast," he was explaining to Coach Ford to refresh his memory of the details. I finished the story for the both of them 'The play ended the half and you immediately came storming straight at me. You grabbed me by the face mask, said a couple unkind things about my play up to that point and told me that if I ever pulled a stunt like that again it would my last play of any sport ever at New Paltz High.'  Coach Freer quickly jumped in and denied ever being that mean to anyone in his entire career. The three of us went right on laughing. Rest in peace Big Fella.