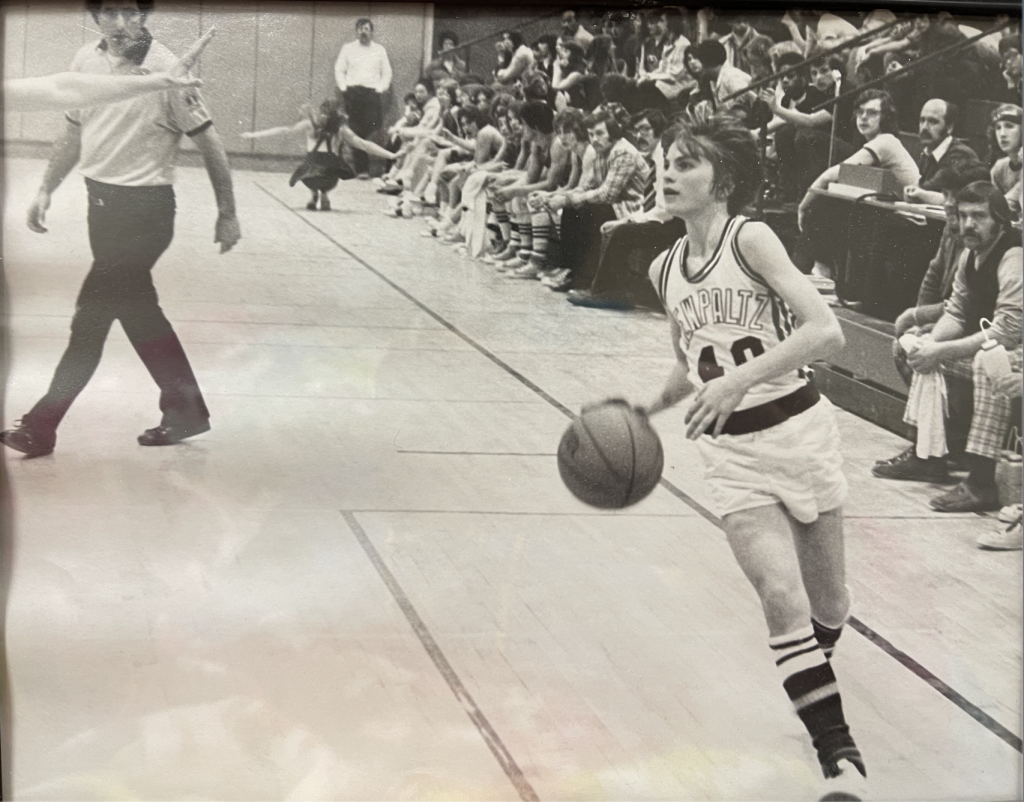 To my eyes the photograph is not impressive. The black and white film only makes it look dreary and old. The snapshot has been in my dwelling's downstairs family room for 25 years. During that time I don't recall giving it a thought. It was not until my recent hibernation that I even remembered it being there. During the midst of my holiday funk I spent way too much time aimlessly walking around the house in an attempt to exercise my completed hip replacement. It was during one of these strolls that I stopped and looked at this ancient framed glossy. 'Why in the world had I let this picture stay in public view for so long?' I looked like a malnourished waif with long, stringy, unkepmt hair. 'I can't believe I was that short and skinny,' I said to myself with a cringe. Why I had let such an unattractive view of myself hang around for all these years? I took the photo from the shelf and held it closely to my face. It was taken on January 30, 1976, one day before I turned 16. New Paltz High School was playing Pine Bush High School in New Paltz's recently named, Larry Johnson Memorial Gymnasium. The longer I transfixed on this picture, the more I loathed my physical appearance. Just when I was contemplating hiding it in the cabinet I began to see beyond myself. My perspective of the picture suddenly was altered. Sometimes in life moments connect both the past and the future. You're lucky in this lifetime if you are able to capture one.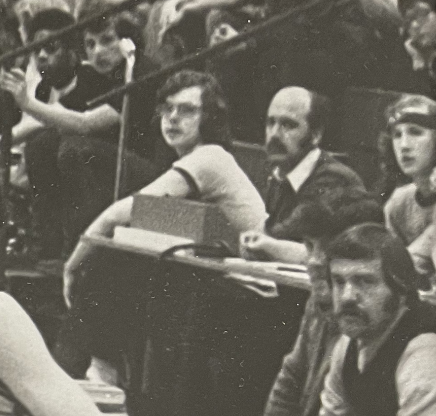 The guy at the scorers table running the clock with a black mustache is Ed Beck. At the time he was the owner of Pat and Georges restaurant located in the hub of New Paltz. Ed is still alive and his son (Mike) and grandchildren now own the famous New Paltz landmark. Mr. Beck had been the clock operator for both the football and basketball games at New Paltz High through the time his son Mike starred in three sports. Mr. Beck was quite a character. He had a quick wit to go along with a joke for whatever the occasion called for.  As a shot clock operator he was the best "homer" in the league. If we had the ball with five seconds  left in the game, or half, I would hear him whisper to our coach. "You've got about eight seconds to get the shot off." If the situation was reversed the opposition only had three seconds to do their work with.
The few times I spoke to Mr. Beck were memorable. It was forty years later when I was thinking of a title for an autobiographical book I had just written and one of Ed Beck's story's of long ago came to mind. A young man had told Ed that when he reached adulthood he wanted to be just like him (Mr. Beck), to which Ed's fast response was, "Son, you can't do both." Surprisingly, I didn't learn until many years later that Ed Beck was there the night my father met my mother in P and G's in 1954. Not only did he introduce my parents but Ed turned out to be my father's best man. Ed Beck is 86 and still hitting life hard. His grandson and myself are part owners of a golf course that is adjacent to my house. The deeper I looked into the picture the sharper my memories became.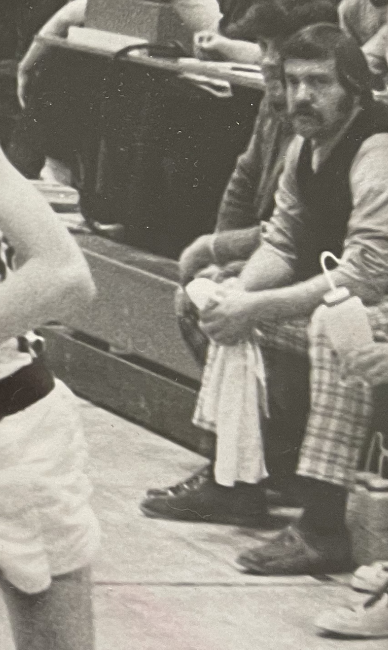 John Wirth is the man sitting on the bench close to me with a towel in hand. He was my middle school physical education teacher. He also was my coach when I was the quarterback of the 8th grade football team, and my coach for 8th grade basketball. Exactly two years before, from the day this picture was taken John Wirth was sitting at a downstairs bar stool in my parents house. At the time he was the 8th grade basketball coach and I had a party for the basketball team after we had defeated Rondout earlier in the day. After the players had gone home my father and coach Wirth were on their third or fourth scotch and I was sitting on the  staircase, out of sight, listening to their conversation. "I think I have a shot to be the Varsity Coach next year," I could hear Coach Wirth saying from my perch on the steps that led to my downstairs family room. John Wirth found his way to New Paltz via a small Indiana town.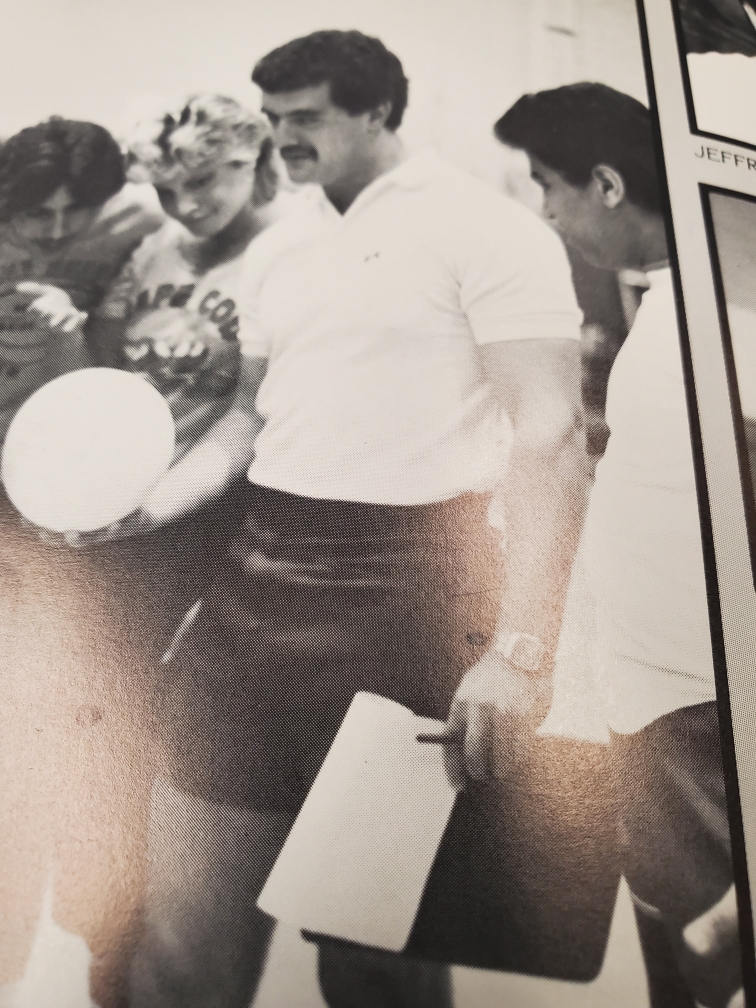 His dream was to be a gym teacher and be a head varsity basketball coach. The picture is proof that his dream came true, although short lived. The night this picture was taken he was in his second year of coaching the New Paltz varsity. His first year had been quite successful led by a core group of seniors and a talented junior named Lorenzo Simmons.  But in his second year the roof caved in on coach Wirth and the basketball program. The season was filled with losing and player suspensions. This was my fifth game on the varsity and John Wirth's last game he would ever coach. John Wirth was 32 at the time with three young boys and a wife. Within a year of resigning his coaching position he was divorced and at by the time he was 50 he passed away from the complications related to alcohol.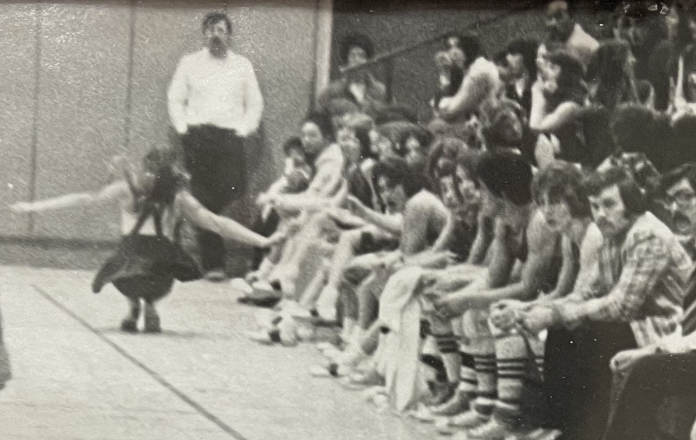 Pine Bush N.Y. to us cool cosmopolitan kids from New Paltz was known as "farm boy country." Pine Bush was a geographically vast, yet scarcely populated school district located at the far southwestern tip of Ulster County. On the "Bushmen" bench at the moment this picture was taken is Bob Peay (first in on the Pine Bush bench sporting a mustache) and Jim Caputo (siting in the middle of the bench, 4th down, watching the cheerleaders). There was no way of knowing on that night, but approximately six years into the future I would be starting my first year in Pine Bush as a history teacher.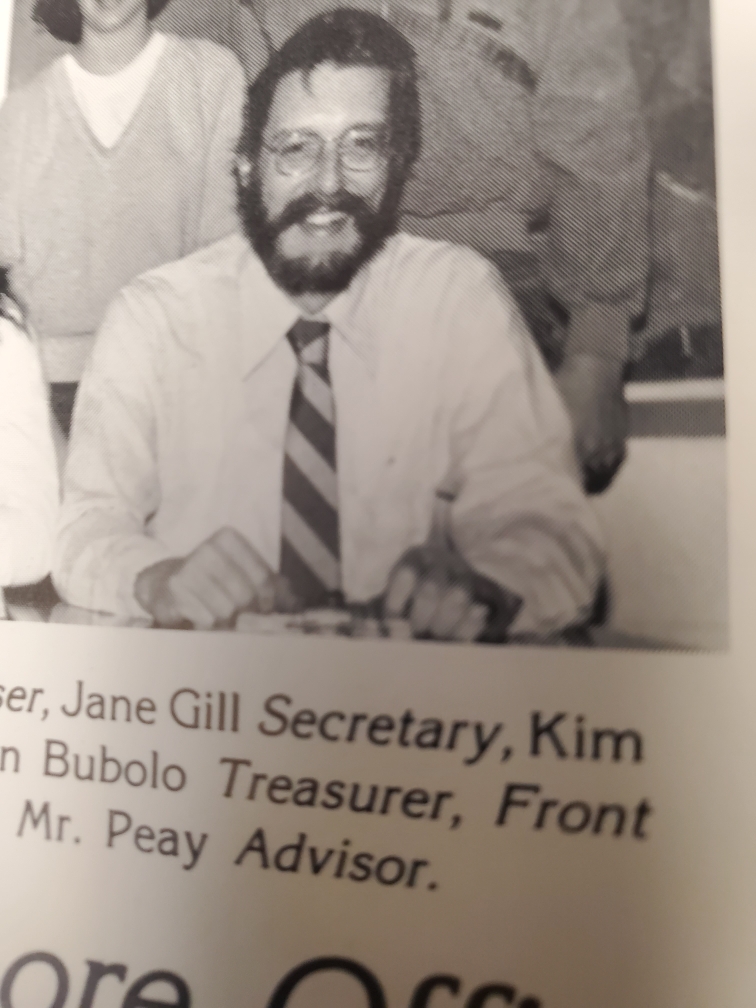 Both of the fore mentioned men would become my colleagues and friends. Bob Peay graduating from Middletown High School before attending Yale University. He was both a literature buff and a sports fanatic making it easy for the two of us to have a fast and lasting connection. Bob would always openly pick on me whether it was in private or in front of others students. "There goes Siegel, thinks he's smart, but he'll never be anything more than a career jock. What's the last book you read Siegs?" he would ask me in front of faculty members. He seemed to have a hard on for me and I loved every minute of the attention. In our quieter moments together over a beer at the Erie House he would encourage me to write and to read the classics. Bob Peay passed away October 17, 2019. I hadn't seen in 25 years. Jim Caputo just recently retired from the Pine Bush School District where he was a teacher and a coach. Coach Caputo was one of many of the excellent staff I worked with in Pine bush that made the five years I taught there memorable.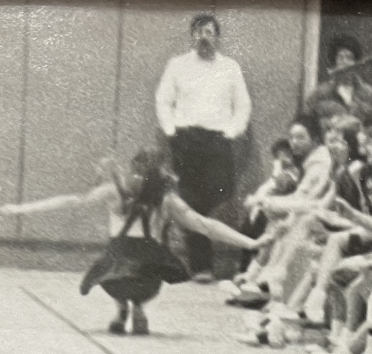 Leaning against the matting, as he was known to do at every New Paltz basketball game is Pat Masson, my 10th grade English teacher (white shirt, mustache). Mr. Masson chaperoned the ball games from the time I was 10 years old all the way through the years I coached at New Paltz. When I rank the top five teachers of my youth Pat Masson might be number one. Mr. Masson came to New Paltz at the age of 23 to teach high school English and coach football. He probably never imagined when he left his Pennsylvania home that New Paltz New York would be the place he would spend the greatest portion of his life.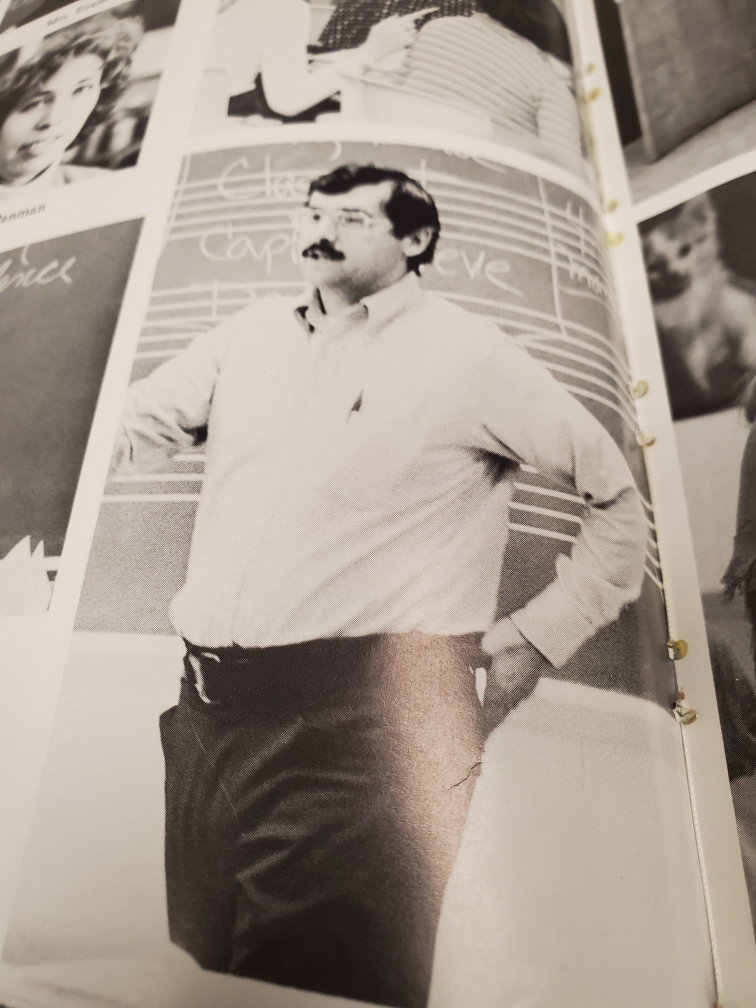 During my high school years when I showed some interest in writing I leaned on Mr. Masson. "Rich if you want to be your best self you have to work harder than 99% of the others," he said to me one day in study hall after I turned in a sloppy piece of work. "If you want to be a writer you have put forth your best every time." I was a lazy kid then, looking for the easy out, but Mr. Masson believed in me more than any teacher I ever had. His impact on me wasn't immediate. As the years went on I would hear his voice from time to time and it was always straight forward wisdom that I could apply to the situation in front of. I remember him saying to me in class the day after the game. "Nice game for a 5'3 varsity player, now if you could learn to pass you might develop into a good ball player." It was eight years later that I came back to New Paltz to coach the varsity basketball team. Pat Masson was still standing where he is in the photo. His son played for me for four years. Steve Masson was great passer and outstanding young man. He followed in his father's footstep and became an English teacher in the Highland School District.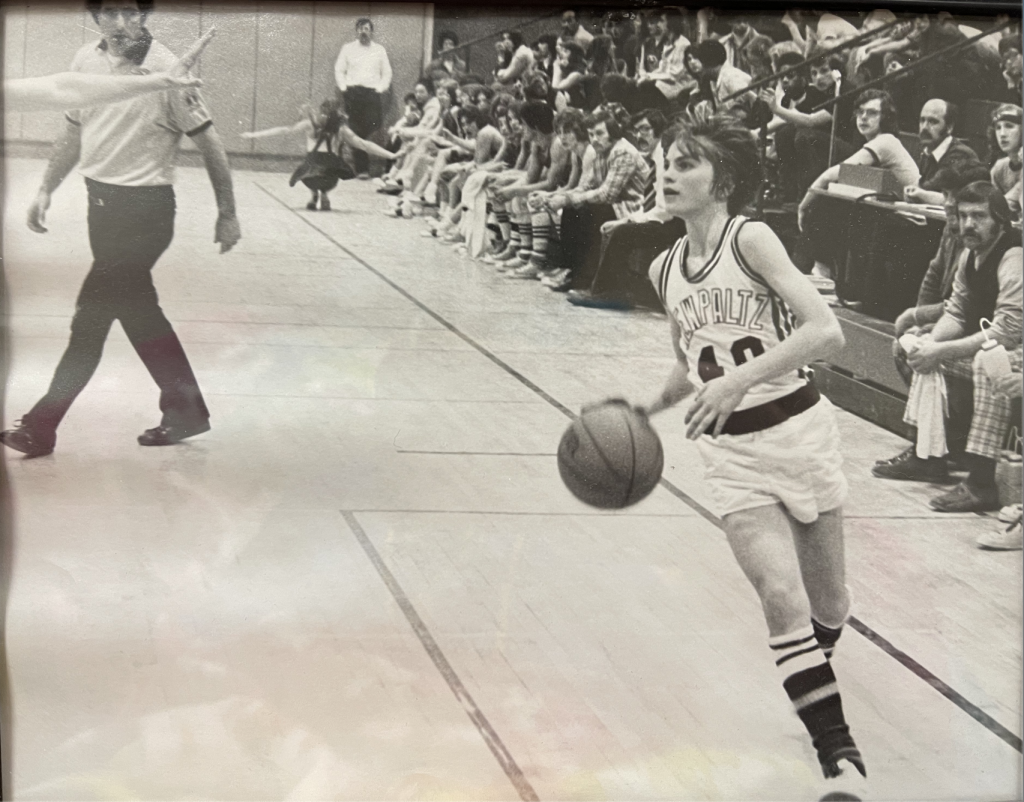 One snap shot on a long ago January night  captured a moment when all eyes were on the smallest player on the floor. Photography has the magical power to make our lives standstill for a split second in time. Photographs hide in our bookshelves, albums, and  scrapbooks waiting for us to remember the past. The pictures tell the stories of our lives. Sometimes they bring back sad memories of friends and mentors gone too soon, or of a time period in our lives we would prefer to forget. And sometimes photos, we haven't seen in years, can make us recall people and events that we had put in the further recesses of or our mind's long ago. It was 45 years since I gazed into a print I had walked by a thousand times and never took the time to let the moment come back to me. I could see Mr. Wirth, Mr. Beck, Mr.Masson, Jim Caputo and Bob Peay. It was fun to think about how this photo ended up connecting my past with what would be my future. I stared hard at the kid in the picture. He was so fragile, so skinny, he was a boy competing against men. What would become of this scrawny kid in the multiple colored floppy socks? No photo can see into the future but when I looked deeper into the eyes of the kid with the ball I felt better for him. My head was up and I was just beginning to gain my stride.