The send button was pressed, and the words went floating into space, the original plan, rooted in simple stubbornness, had been abandoned. 'Today represents 65 consecutive Fridays. Hope all is well with you and your family.' Technology had found a way to connect me to an old college fraternity brother with the ease that even two old dinosaurs like us could handle. In that bittersweet time of life when we leave our hometowns for the first time the person that I sent the e-mail to was my first acquaintance when I arrived on the campus of Muhlenberg College in the fall of 1978. In the first moments I arrived in Allentown, before I was even unpacked, I glanced out my dorm window and saw a lone shooter firing jumpers at a rickety old basket that had lost its netting. Today, 45 years later, only he would understand the meaning of my brief coded message. My old acquaintance is an accountant, and I can only assume that to be the reason he has not been responsive to my rantings for over four months. We were never best friends, never roommates, and certainly not long-term confidantes. At one point there was a gap of 30 years where there was zero communication between us. In our 20's we did attend each other's wedding before we took our unscripted hiatus from each other.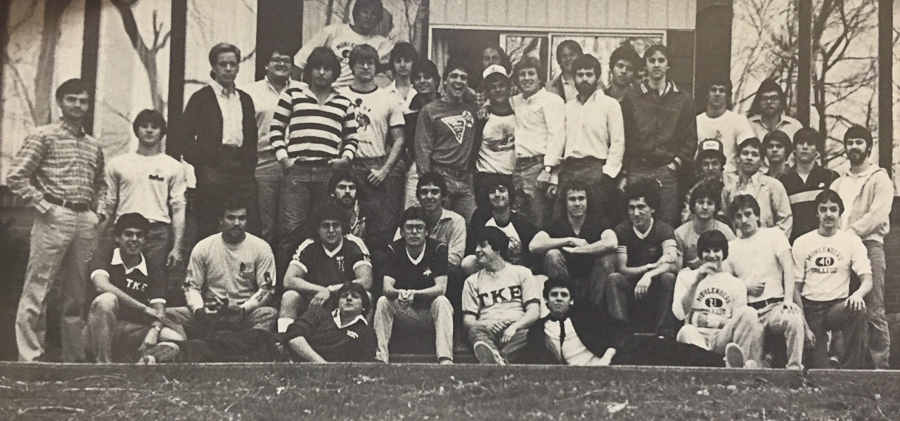 It was April of 2020. The phone buzzed in my office. "It's a gentleman who says he is a fraternity brother of yours," was Gina's reply to 'who is it? Please tell him Mr. Siegel is extremely busy at the moment and would like you to take a message.' My co-worker immediately buzzed me back with his response: "Your friend, very nicely told you to go make love to yourself, but first pick up the phone." We had not seen or spoken to each other since a rainy wedding Saturday day in the month of August, 1989. It had been 30 years since I had heard that calm calculated voice of reason. He got right to the point. "I'm having trouble finding a player to fill out my foursome this year in the Muhlenberg Alumni Athletic golf tournament." This was the old friend, whose steady voice had been a guide for me in my four years at college. 'So, you're desperate, and you've exhausted all other possibilities?' The master chess player was silent. He had made his move and was confident it was more than enough to close the deal. He always had a way of cutting to the chase without much small talk, which would have inevitably come from me had he not worded his question carefully. The timing of his call could not have been better. It was the beginning of the pandemic. It was also the first time in years that my business life was in turmoil. In the dark corners of my brain, I was starting the process of breaking ground on a personal make-over. 'What's the date?' I quipped. "Third Friday in September." Without the routine 'let me think about it', I committed. 'I'm in, send me an e-mail with the details.'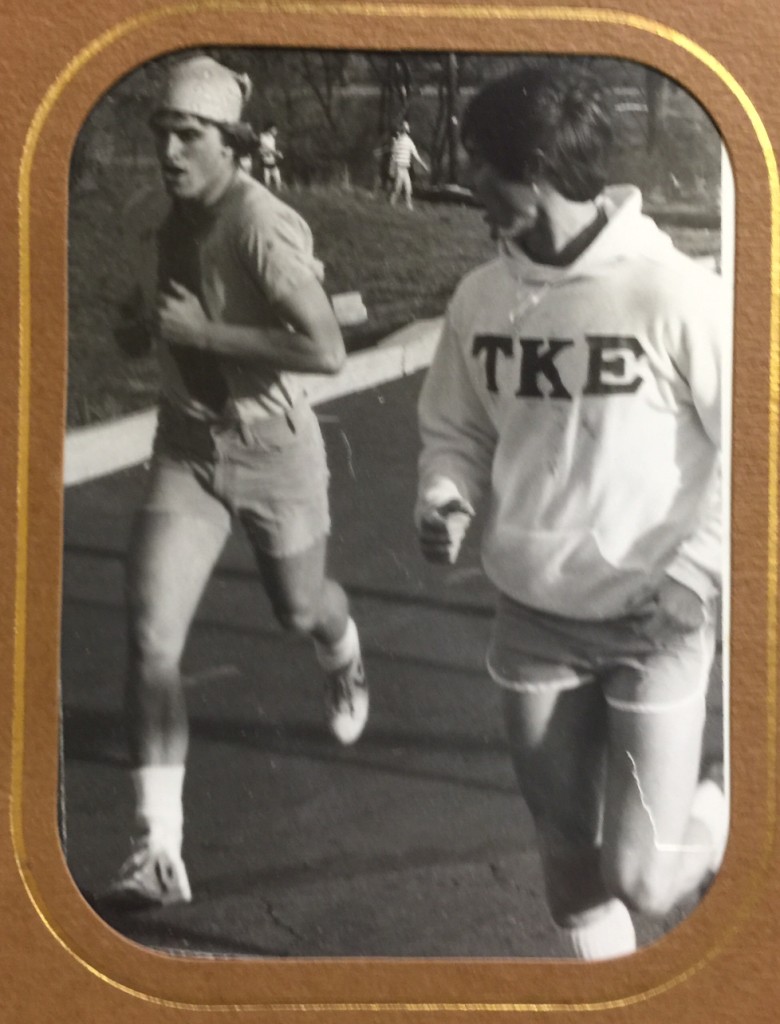 In my riddled mind the Alumni golf tournament was just a smoke screen for the greater purpose of the phone call. I was lost again, like I was back in the fall of 1978. I knew that I needed adjustments in all aspects of my life, and it was time to "do something" about it. Doing something meant saying yes, more than no. It meant starting now, not later, it was about sculpting the remainder of my life. It was time to go back to basics. And going back to basics meant going back to listening to the voices that helped me build the foundations of the person I wanted to become. It wasn't about returning, we can never do that, we can only look behind from where we came and grow from experience. It was all about playing back the old tapes. Going back to basics meant going back to Muhlenberg to get a fresh perspective. Taking that first step opened the door for me to go all the way back to my college 40th reunion three years later after my friend's initial call. During these golf outings and in between I talked to my friend more than we did during our collegiate days. Without knowing it (he never cared much for emotional stuff to be on the surface) he became my advisor, psychiatrist, patient, and sponsor. Two old friends cutting up on where they've been, what they went through, where they were headed next, and mostly where it all began. In the 'Platoon' of our lives he had been the 'Elias' to my Barnes'. The steady humming that made me understand the difference between these two souls that lived within me.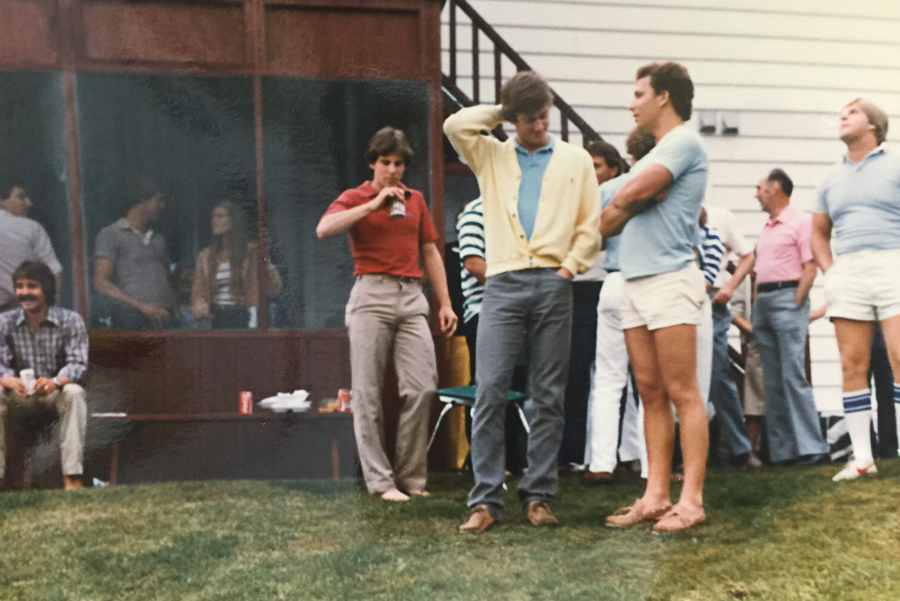 Whatever connects two people is way above my pay grade, deciphered in the depths of some examination by neuroscientists. But whatever it is that sparks mental connection between two people, I felt it the moment we met. I had a best friend from my hometown; I even developed a "closer friend" on campus, but never would I reveal my dark side to anyone but my newfound sage. We never discussed any of the above, yet I believe it was a similar truth for him. It took time for me to make sense of our dynamic. In my new acquaintance I saw the "good side of Rich", one which I rarely exposed in my youth. The debates I had engaged myself in now were answering me back through another human being. This was the nature of our relationship all the way until the time we each married our wives (both medical providers).
The golf cart pulled right up next to my late arriving ride. 'Shit,' I was thinking. 'You haven't seen the guy in 30 years, he invites you back into his life and I turn out to be the last guy to show up for a tournament field of 120 former Mule jocks.' Typical "Rich crap" I expected him to say as he approached with his trademark indelible smirk. "Get in old man, we're good, I had to listen to the banter of 'Siegel hasn't changed,' but I never doubted for one second that you would be here."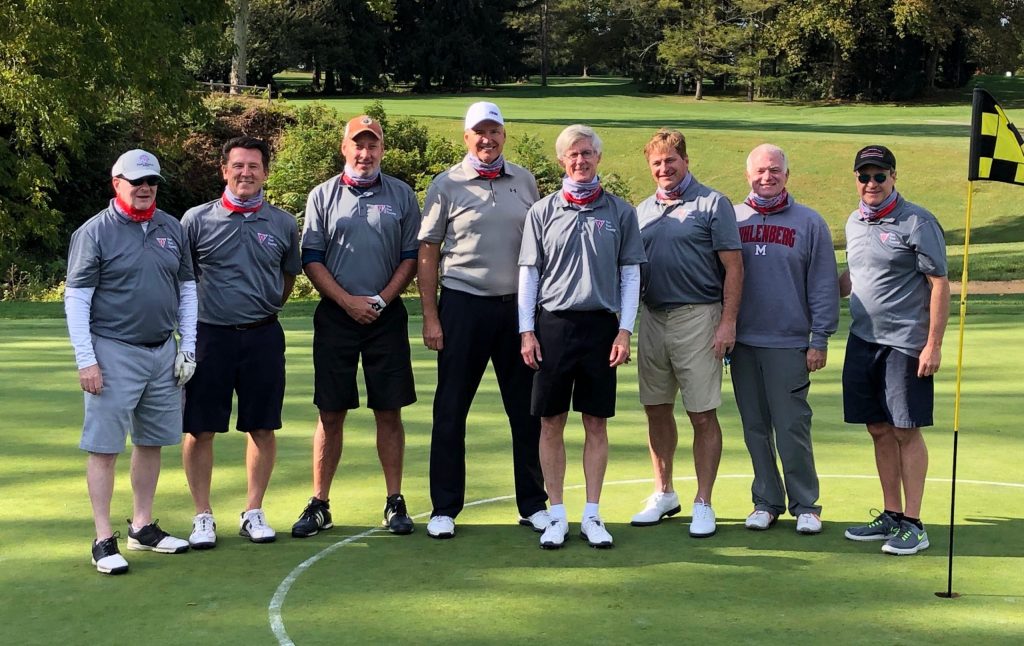 After the round of golf, four frat brothers who I hadn't shared conversation with in 40 years headed into the inner sanctuary of the Brookside Country Club to share a libation from days gone by. Three brothers, who had maintained a fraternal bond over the years, and me. My friend was clearly the Yoda amongst some very accomplished adults. In all my years in the halls of academia the hour I spent hearing the trials and tribulations that we all had experienced in our varied, yet deceptively familiar lives gave me the vantage point I needed to make decisions I had already been contemplating. Although I did not execute anything immediately, I drove out of Allentown that night with the beginnings of a whole new plan for my future. Based on the conversations and sharing I made three mental decisions as I headed back to my hotel room in Bethlehem:
1. It was time to find a way out of my current business situation and spend the rest of my life on my terms.
2. My family, like it had been before my daughters left the nest, was going to be my primary focus going forward, not myself.
3. I was going to change my relationship with alcohol. "Recovery is the process of recovering the person, you were meant to be." Not unlike all processes the hardest part is taking that first step of committing.
At a particular time when all the phone calls gave me heart palpitations, when all the cases you are chasing don't close, when all the putts are not finding their way into the hole, when you feel everything you've worked so hard for is slipping from your grip, one ring of the phone can motivate you to flip the switch. It was the following Friday from the start of this prose. It was officially Good Friday, the 66th Friday of a newly discovered life. I was back in same joint I had been the Friday before where I had located the inspiration for this story. Unlike the normal shilly shallieness my procrastination had a purpose. I was going to let some time pass before I wrote the ending (a few days). But now a week had passed, and it was more than four months with no communication between myself and my old friend. A young man sat next to me in the coffee shop. We chatted about writing, the current condition of humanity, and the purpose of life. Some heavy stuff in a very short period. I was there to finish a story so I said the pleasant goodbyes 'it was great meeting you, I hope we bump into each other again. My name is Rich,' as I shook the stranger's hand. "Likewise, my name is Elias." Tax seasons ends April 15th and accountants emerge from their bunkers and try to recoil back to a 40-hour work week. Sometime between now and May Day, like it has the three prior years, the phone will ring, and it will be my old friend. "Same plan as last year," I can hear him saying with me retorting 'thanks for the call, see you in September.'