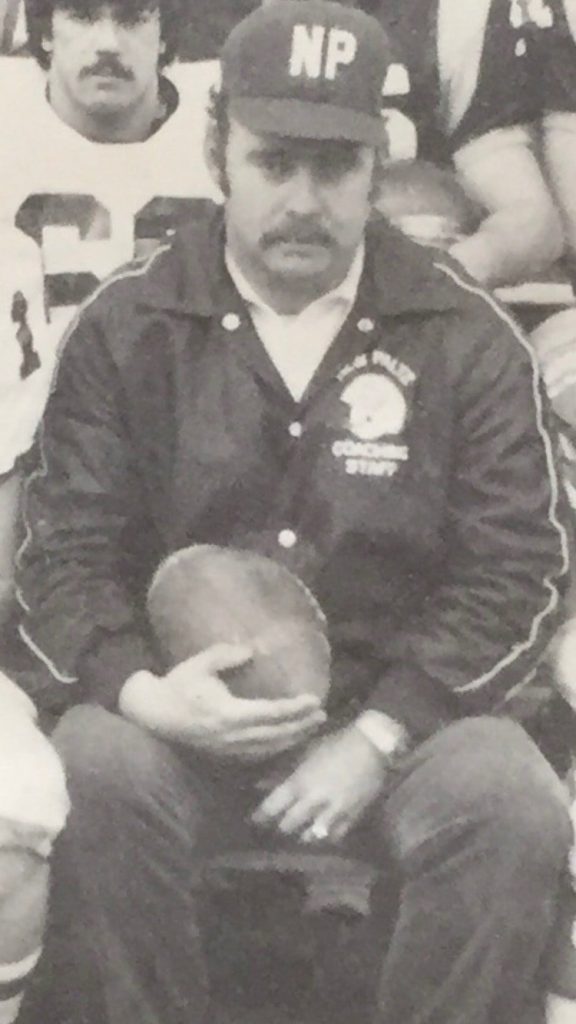 It was a crisp Saturday in the Autumn of 1970. My mom dropped me off in the parking lot of the old Stewart's, or maybe it was Friendly's, and said, "I'll pick you up right here after the game is over." As I crossed South Manheim Boulevald, looking straight at what had been the old High School, now the Middle School, I could hear the marching band playing their pre-game routine. For a ten year old wanna-be athlete the electricity was hair raising. In small town America Saturday afternoon football games was as big as it gets. The New Paltz High School gridders were preparing to take on our neighborly rivals the Highland Huskies. The closer I got to the Middle School Football Field the louder the buzz became. "We're from New Paltz, we couldn't be any prouder, and if you can't hear us we'll yell a little louder," chanted a group of teenage goddess's in short skirts. It wasn't long before Jay Ackert was handing off an I-right 151 to George Clark, who lived right down the road from me and became my guardian angel on the school bus. Of course everyone knew Jay Ackert, a three sport star for the Huguenots football, basketball and baseball teams. As an aspiring young athlete who just moved to New Paltz is was very important to know the players you admired from afar. These were the gladiators you would mimic and come to idolize. Standing alone on the sidelines, in street clothes with a cigarette dangling out of his mouth, an entrenched scowl, and a 1970's comb over was a man who to a ten year old looked to be at least 50. "That's Mr. Ford, he's the head coach," said a bigger kid who was standing next to me.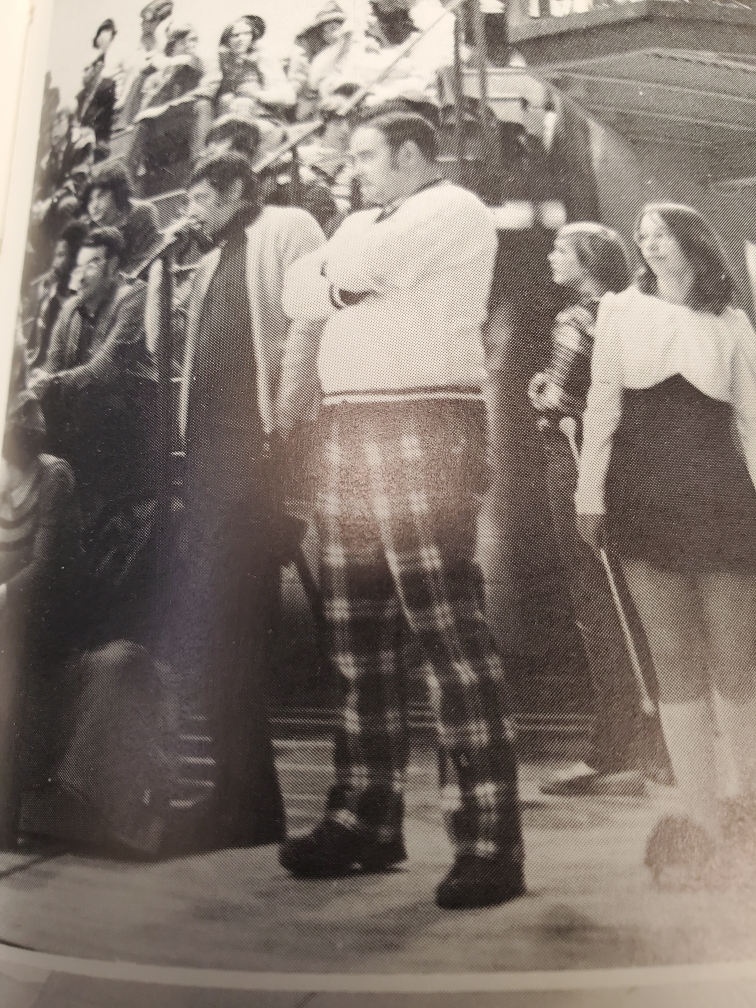 John Ford, who came to New Paltz in 1964, fresh out of Niagara College, passed away Saturday morning after a long bout with cancer. He was hired as a social studies teacher, assistant football coach, and J.V. basketball coach. It was evident early on that his passion centered around all things football. By 1970, at the age of 29, Coach Ford became the varsity football coach and would remain in that position for 13 years. The first five years were rocky for the young coach while he was slowly building a consistent program from top to bottom. The most zealous of the parents whose kids played under Ford in the early 70's would stand on top of the hill and scream: "Fire Ford!" Or "Run it up the middle, Ford, ya bum, ya bum ya!" Yes parent rage was alive and well in New Paltz and Coach Ford got a good dose from the know-it-alls in the stands. But John Ford's greatest strengths turned out to be his consistency and persistence. He built a program where the kids from seventh grade on up were running the same plays. By the time the that first class of seventh graders were seniors it was 1975 the New Paltz High School football program had established a winning tradition. "What did you think of the game Saturday?" Mr. Ford asked me as I sat in his ninth grade global studies class." The Huguenots had upset a Jim Merriken (went on to play four seasons at West Point) led Red Hook team in a thriller. "I thought you should have let Beck throw more", I said with a straight face. Coach gave my response his long hard deep chuckle. "Anything else Siegs," "yeah you should have had Sciascia running back kickoffs all year." After about 35 minutes discussing the details of Saturday's triumph Mr. Ford looked back at the copy of the book in front of him and we spent the last five minutes of class discussing Pearl S. Buck's 'The Good Earth.'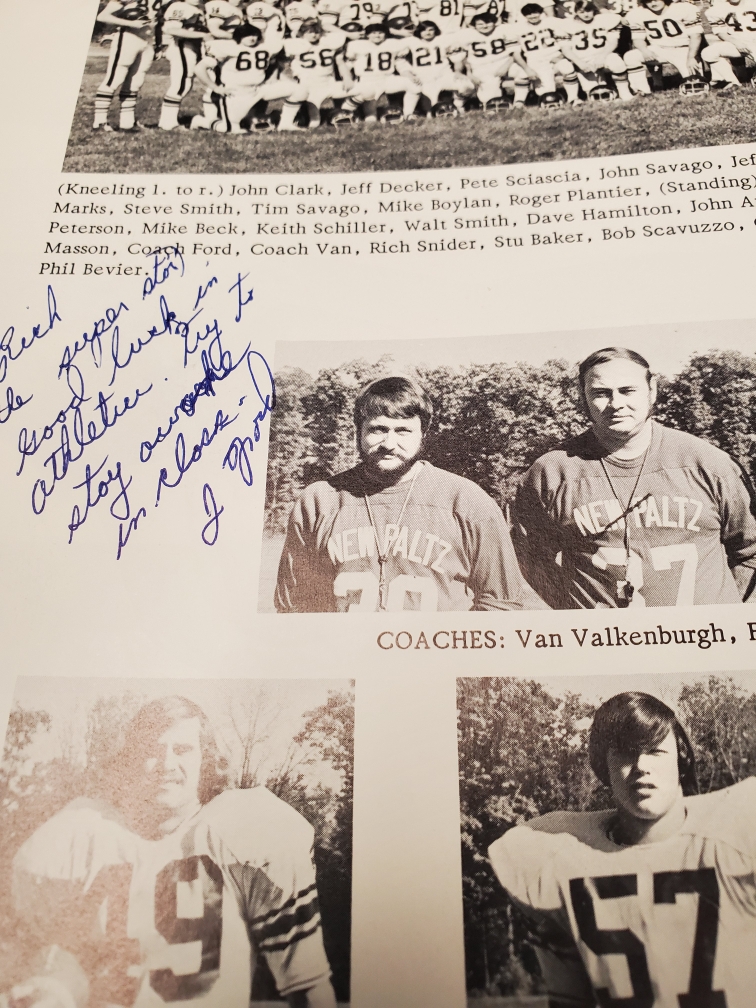 It was already halftime of the first game of the 1977 season, and neither team had put any points on the board. With about three minutes remaining in the third quarter senior tailback Randy Freer took a 943 handoff from Todd Krieg and went 60 yards to the end-zone for what turned out to be the only score of the game. The 6-0 victory over Red Hook was the closet game the Huguenots played in an undefeated 9-0 season. John Ford had cemented a winning football tradition at New Paltz . In the next six seasons Coach Ford was able to direct another undefeated team(1980) and had the Huguenots in contention for a title every year after until his retirement from coaching in 1984. Coach Ford's team's of the early 1980's possessed his best (I never heard him concede it) and favorite player Charles Davis. In New Paltz Ford/Davis was our Belicheck/Brady combination. Two of New Paltz's own joined at the hip in our hometown lore. Charles Davis now calls the commentary for the the big boys of the NFL. Last Saturday I was watching the Bills-Colts playoff game and I hear the announcer say. "I want to send out well wishes to my high school football coach, John Ford, he has been under the weather and we all our praying for a speedy recovery." Charles told me he got a text from Coach Ford immediately after, "thanks for the shoutout." Charles went on to express his love for his old mentor. "I knew he was not doing well , and I wanted the world to know his name… and for him to know I was thinking of him. I loved that man. Just like Coach Freer. Giants in my life."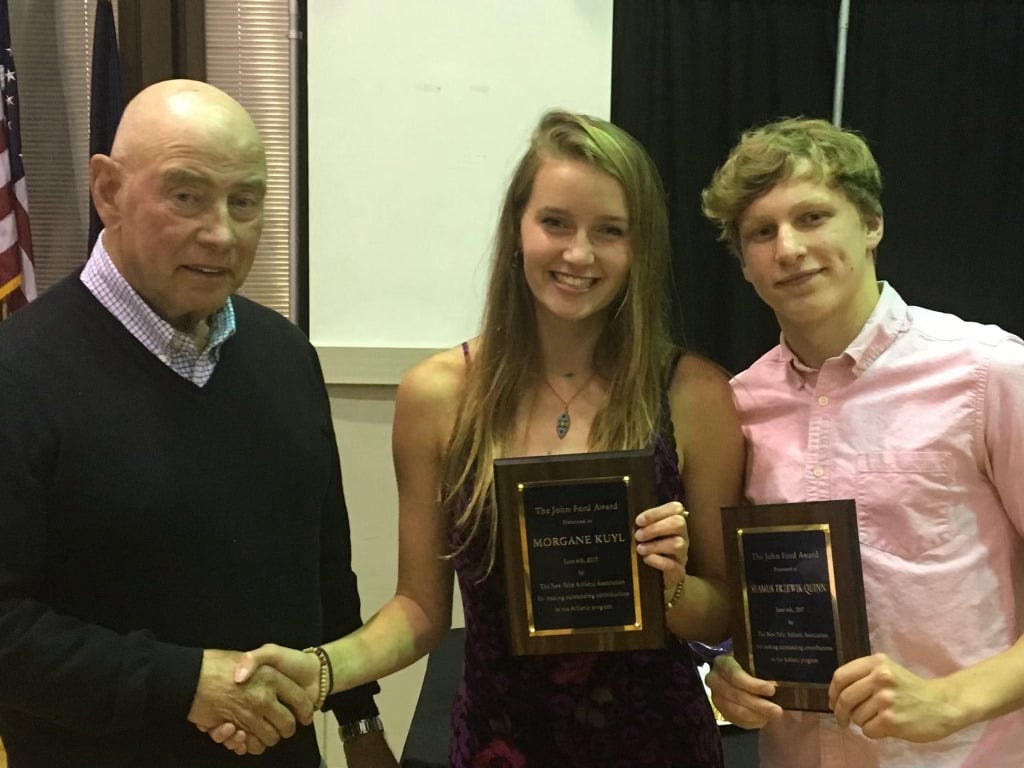 After leaving the playing field and the classroom behind John Ford became a school administrator. He finished his career at New Paltz as both the Athletic Director and assistant principal. In 1985, seven years out of high school, John Ford named me the varsity basketball coach, thus becoming my boss. To say myself and coach Ford had a cantankerous relationship in our roles would be an understatement. "John you know better than anybody that you need kids committed year round to a sport in order to build a successful program," I would plead while begging for more open gym time during the off season. "Siegs, if you think you are going to come in here and not follow the rules you won't be here long. You're Bobby Knight act isn't going to make it," he would say givng me a hard look. "Your priority is football, always was and always will be," I was at an age when I needed to have the last cutting word. The two of us had that kind of back and forth for four years before John had the final say. "You're fired." This was a devastating blow and for a short period of time I felt abandoned by a mentor and betrayed by my own hometown. That old saying "time heals all wounds," is accurate in most cases. In myself and Coach Ford's situation it was him who reached out several times to extend an olive branch. To Mr. Ford's credit the two of us developed a friendship in the years that followed my dismissal. Although we never discussed the details of our tumultuous years together it was obvious we were both capable of putting the past behind us.
"Siegel where are you, hiding under the desk, it's John Ford I need a favor." It was probably 2005 and coach Ford came looking for me to help him with his new found passion in retirement. John had been instrumental in the formation of a state football tournament. Now, he was selling ads for the tournament as a part time gig. His heart never left promoting high school football and presenting more opportunities for the students. "Give me what you can Siegs," he told me as he entered my office. "Just so you know O'Conner gave me $1,000, so I'm expecting $1,500 from an alumni." I wrote out a check for $500 and we shared a hard laugh. It got to the point in our relationship where he would call me every couple of weeks. It was usually questions about former players or just looking to bullshit. "What's going on with Schiller and Trump? I heard you went to Krieg's daughter's wedding? How's your dad and Argo? (Tony A-Z, former A.D. and superintendent in Wallkill)." How do I get a copy of your book?" Underneath his gruff exterior John Ford was a lamb. It was clear in his later years the sense of loyalty he had to everyone that had been part of his New Paltz family. Even a pain in the ass former student and ex employee.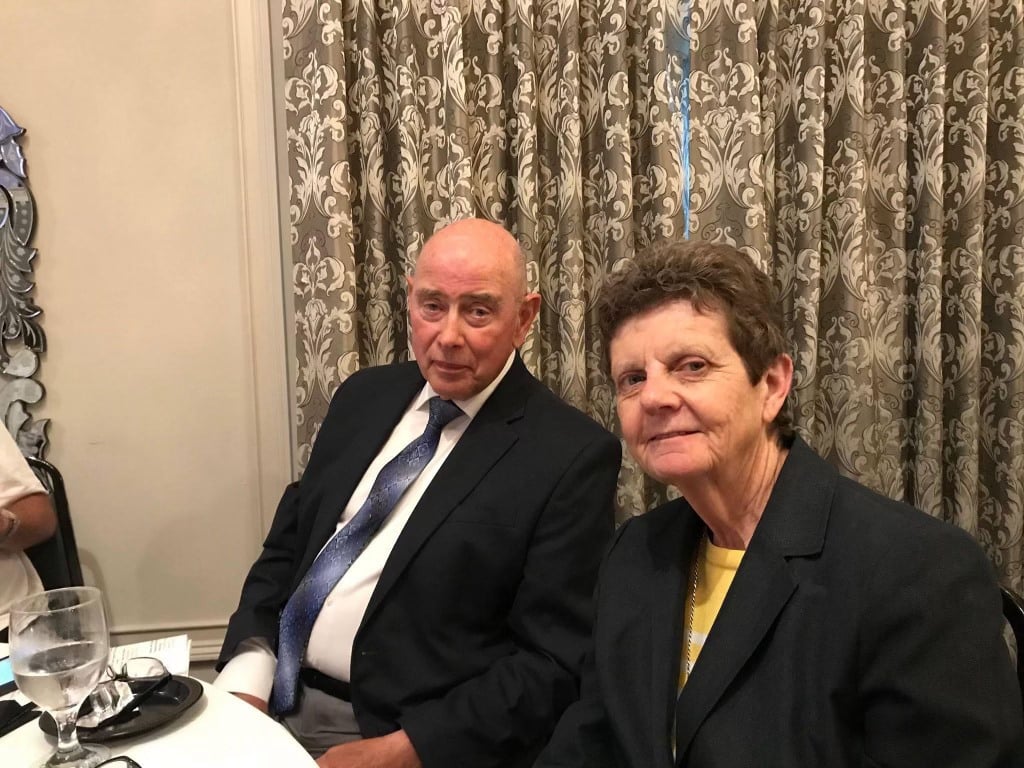 In recent years I would run into Coach Ford at girls gymnastic practices. His granddaughter was starting in the junior program and my girls were on the high school team. Gymnastic practices and meets can stretch for hours giving the two of us time to gossip like a couple of old hens. In one of our sessions watching our girls I asked him what were his happiest moments in his career. "When I first started coaching those fall Saturday's about ten minutes before the kickoff. I could smell the hot dogs, you could hear the band, and soon there would be a football in the air. I never stopped missing that feeling of the anticipation before the fight ahead." The first time I laid eyes on John Ford he was in one of the those moments. I still see him on that electric Saturday afternoon in 1970 peering down at the other end of the field where an imposing Highland team was going through their warm-ups. Highland would finish the season undefeated, led by the menacing Monroe brothers, John Barrington and the already legendary coach Lem Atkins. "Do you remember what you were thinking as you stood on field before the 1970 game against Highland?" I asked John. "Shit, I sure do, I was in awe of the size of Ronnie and Perry Monroe. I liked my team that year but my thought was, 'how the hell are we going to beat these guys.' Then I thought about asking Lem for their birth certificates." We both had a similar chuckle and I told him I was there that day. I told him that I felt like there was nothing going on in world except New Paltz/Highland, Ackert/Monroes, Ford/Atkins." John Ford just starred into the gymnastic mats in front of him. "Yeah, those were the best days of my life."