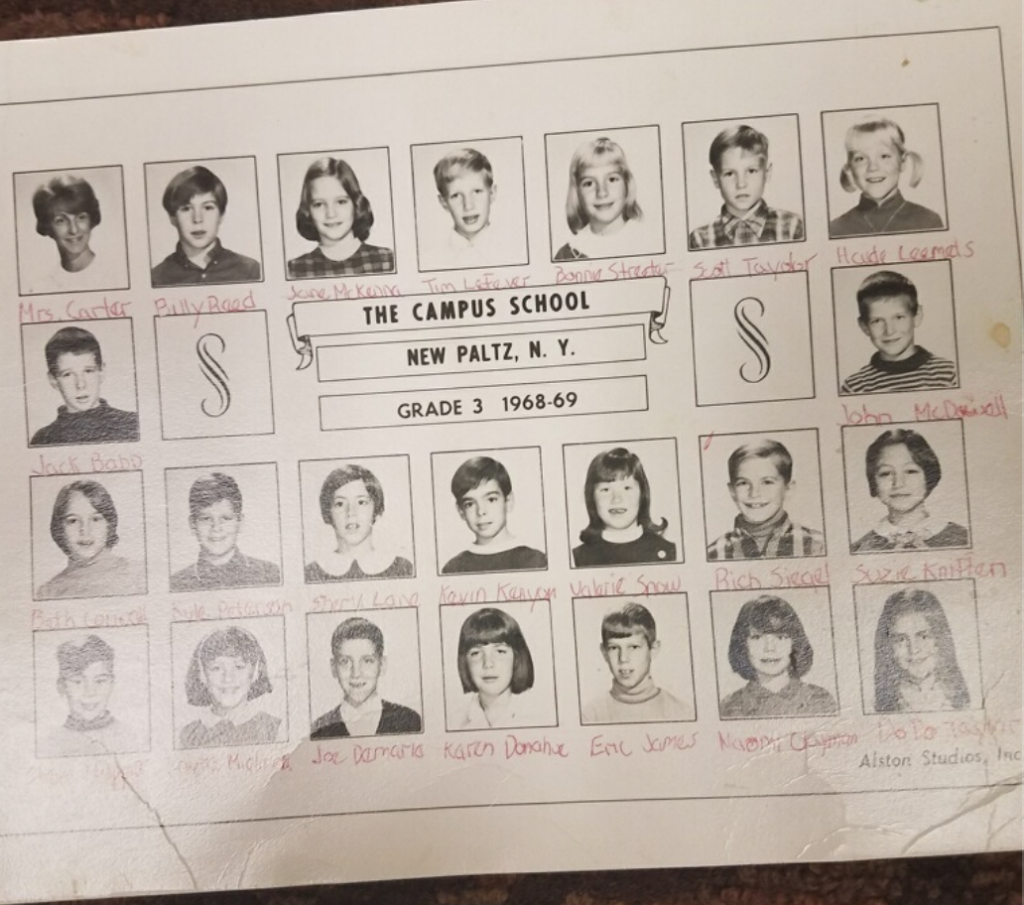 A voice came over the intercom in Mrs. Carter's third grade classroom announcing our dismissal into the summer of 1969. My second full year in the New Paltz Campus School was officially complete. Like most kids, I was excited with anticipation of the summertime fun that lay ahead for me. A full ten weeks of sleeping and staying up late, neighborhood barbecues, perfecting my crossover dribble, and keeping an eye on my beloved New York Mets. As a hard throwing pitcher for the New Paltz Minor League Senators I was convinced I was going to grow up to be a replica of the Mets emerging pitching sensation, Tom Seaver. I can remember running to the school bus that June day with very little perspective beyond the happenings of my home town.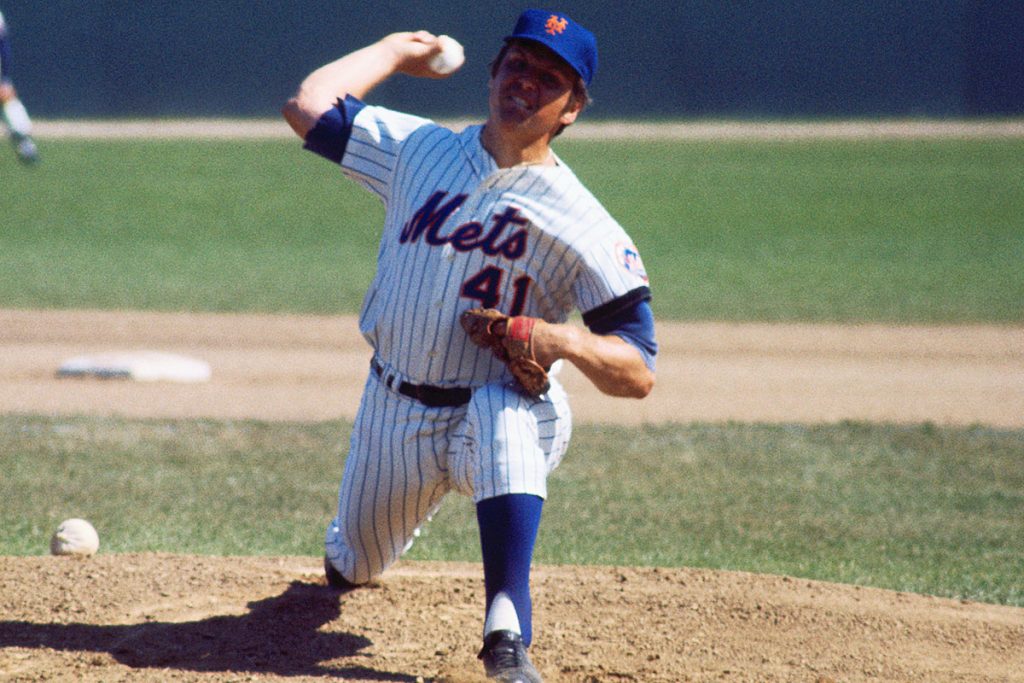 When the school bus turned into Caanon Road to let off the love of my life, Kristen B., I stuttered these profound words, "Have a good summer Kristen." She smiled timidly responded "You too Richie." After our romantic goodbye I did not see Kristen again until the same school bus was picking her up to bring us to the first day of the fourth grade. We are exactly fifty years removed from what arguably turned out to be recent history's most memorable summer. My fondness reflections are about watching my boyhood idol, Tom Seaver, help the Mets make a run from being the worst team in baseball to the best. In June no body forecasted that  The Miracle Mets were going to make history that magical summer. It was as a summer that would change the way I saw the world forever. Five decades later, Tom Seaver is 74 and suffering from dementia. The hero of my youth couldn't tell you the difference between Bob Gibson or Jimmy Hendrix. Sitting behind my computer in the July heat I am searching to remind myself of how I came to believe in magic. In the summer of 1969 I was an innocent nine year old convinced it was possible for my dreams to turn into reality.
My memory is bipolar. I have trouble locating where I left my car keys, but certain incidents from decades ago are crystal clear to me. As a kid, my identity was about being an athlete. My focus had to do with becoming a glory boy jock who got the girl. Yet, at the same time, I was like most school boys struggling with my own sexuality. My mother watched the 11pm news on ABC every night before retiring for bed. When school let out for the summer I would watch along with her before I went to dreamland. On June 29th, 1969 there was a headline story about a violent riot that erupted in Greenwich Village at a gay night club called the Stonewall Inn.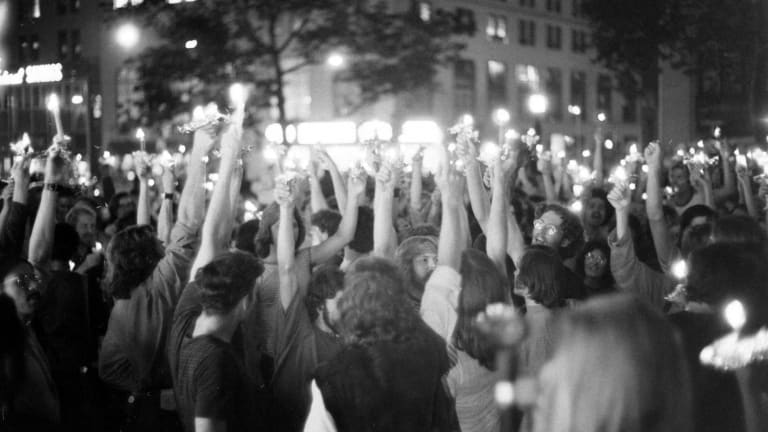 New York City police had raided the bar in the early morning hours beating up and arresting several members of the LGBTQ community simply because of their sexual orientation. This incident became a driving force behind for the Gay Rights Movement and the Gay Pride Parade. I remember thinking that this is the angst my life may be filled with if I decided to act on any attraction I felt towards boys. The riot on Christopher Street started me on a ten year introspective journey in regards to my most personal sexual feelings. I am not sure that riot of 1969 convinced me of a direction, but it gave a pubescent boy plenty to think about. I never acted on any of those school boy yearnings. To this day I wonder how much that altercation in the streets of New York effected my future choices in relationship to my sexual orientation.
It was approximately a month later that my family was on a history lesson vacation through Gettysburg Pennsylvania when I watched on television the most spectacular event of my lifetime. Along with my father, mother, and brother we laid on the beds of our hotel room and witnessed Neil Armstrong take man's first step onto the moon's surface. I was never much for science, or exploring new worlds for that matter, but I can still feel the sense of awe between the four of us that went unspoken. As future summers came and went I would periodically look to at a full moon and gaze in wonderment. Three men had entered a lunar modular, darted to the moon, got out of that spaceship and took a walk. After viewing the moon walk I was sure anything was possible.
On that historic night of July 21 I dreamed it would possible to be living in space by the time I was 30. That did not turn out to be the case, but the Apollo 11 mission was the fore-bearer of modern technology. Looking back it seemed to be a sure thing that space was man's next frontier. Technology and saving the earth have become more of a priority than exploring the possibilities of other planets. In those early morning magical hours in the summer of 69 an American flag was planted on the moon's surface and a nine year old boy from New Paltz N.Y. thought American was the greatest country in all of the Universe.
The summer of 1969 has often been describe as the summer of love but I recall there was plenty of hate also. The Vietnam War was in full bloom and our new President Richard M. Nixon promised to get us out on his watch. There were organized protests against the war in most major U.S. cities. Militant groups like the Weathermen, and the Black Panthers were making violent statements about America's intervention in Vietnam and the racial injustices in this country.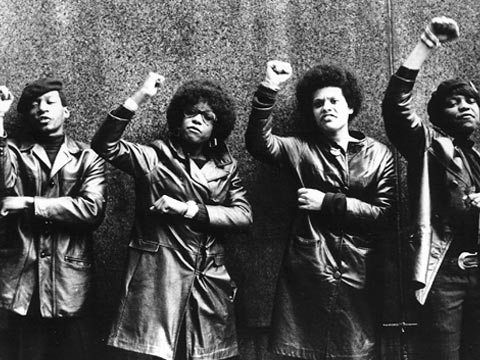 Senator Ted Kennedy, the last of the shining golden boys from Camelot drove a car off the bridge early one morning and left his passenger, Mary Jo Kopechne, for dead at the bottom of the bay. But it was the screams from the hills of California that brought terror into a place in my mind that previously had been unvisited. Charles Manson and his family of hypnotized strays committed a series of crimes that would touch the darkest parts of our nation's soul. Somewhere out of the drug infested, delusional fantasy of a wannabe songwriter the most chilling murders of the century took place. I lived on the other side of the country, but for the remainder of the summer I slept with the lights on. America was mortified, and petrified, to a level that I would not see again until the 9/11 terror attacks. On the nights of August eighth and ninth, members of Manson's family invaded the homes of famed director Roman Polanski and supermarket moguls Leno and Rosemary LaBianca and committed nine gruesome murders including cutting out of the womb actress Sharon Tate's eight month old fetus. With the blood of the victims they wrote "death to pigs" on the wall of the houses. In the summer of 69 I was introduced to an evil that scares me in the present.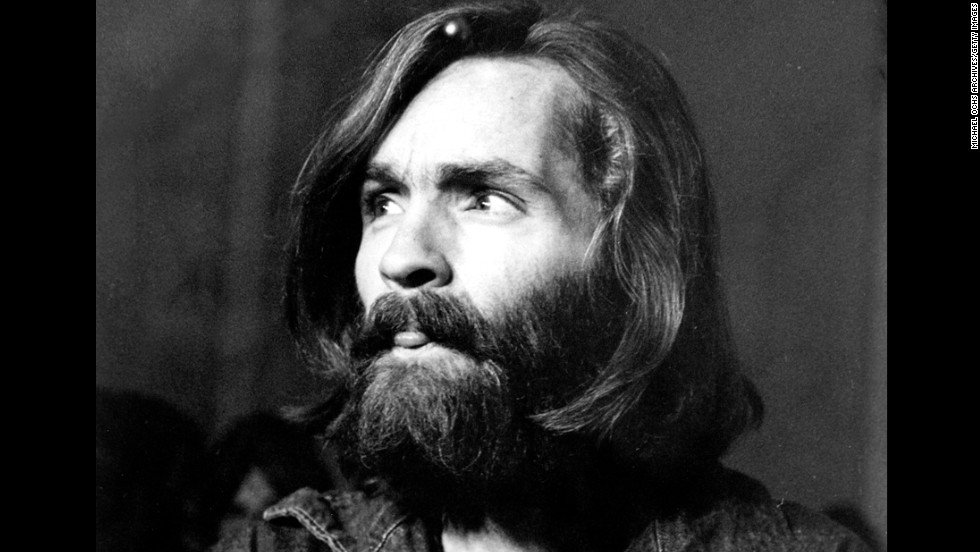 Only a week after the shock waves delivered by the Manson murders,the biggest rock concert in the history of the earth was kicking off in Bethel New York. Over 400,000 young people marched into a weekend of song, sex, and drugs. The festival became known as "Woodstock" to culminate what would later be known as the "summer of love". Hendrix, Joplin, Jefferson Starship, Crosby, Stills and Nash were dropped from helicopters onto a stage at Max Yasgur's farm and turned the "Woodstock" weekend to an event of legend.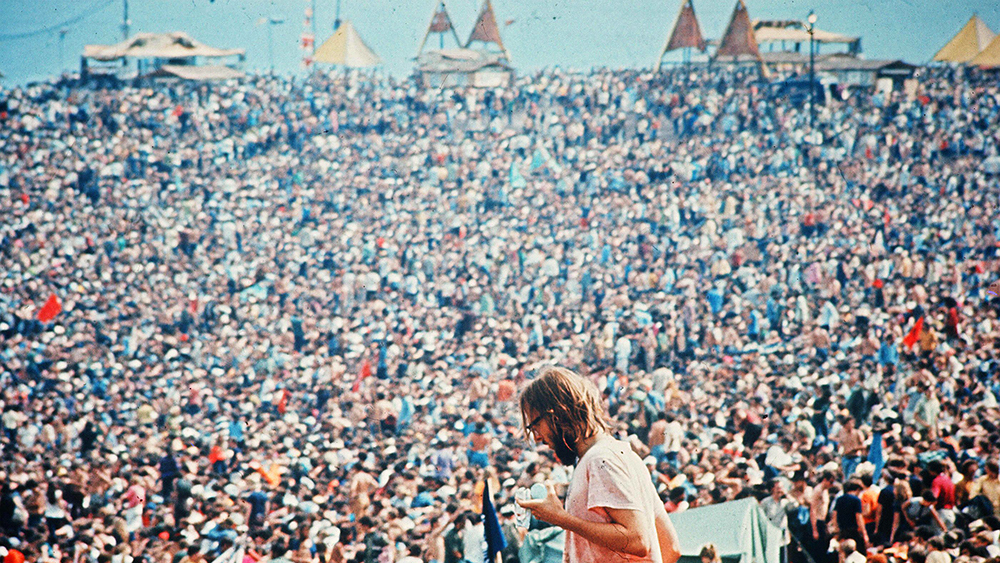 While the Vietnam War raged on, and the violence from California still fresh in the country's psyche, the concert turned into three days of rocking, drugging and loving. Barely 30 miles from my childhood home friends thought they could hear the amplifier's sounds and smell the scent of love.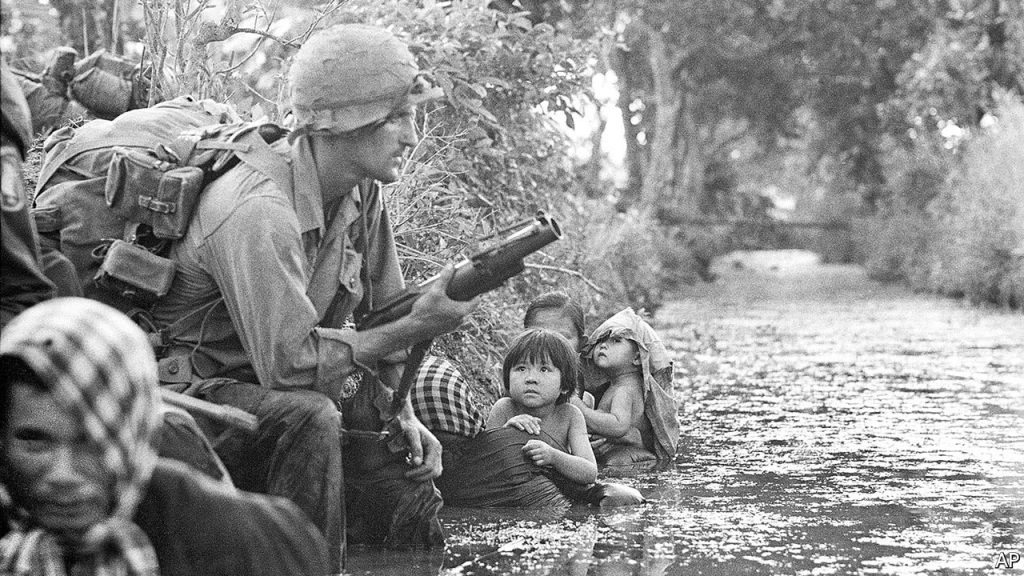 Watching the clips on T.V. of the naked people dancing wildly in the mud taught me early that our country was divided but attempting to find a way to come together. Having heard about my next door neighbor, Hank Schulte, dying in the bushes of Vietnam (at the age of 20) in the winter of 69 and then seeing people his same age seemingly overindulging in partying that summer was confusing to me. Looking back "Woodstock" served as a symbol of the anti-war movement in a nonpolitical way. As left out as I might have felt that I wasn't of age to attend "Woodstock", I understood that my age also exempted me from possibly losing all of my dreams in Southeast Asia.
My best memory of that summer actually occurred a few days after school had started up again. It was September 10, 1969, and the New York Mets were playing a doubleheader against the Montreal Expos. The Mets were an expansion baseball team at the time, who since their inception in 1962 had not finished better than ninth place. In the magical twilight of late summer my dad and I were in the ballpark as the 69 Miracle Mets swept a doubleheader and moved onto the top of the National League East Division for the first time in franchise history. As I chanted "we're number one", along with the euphoric Shea crowd, I knew anything was possible. All you had to do was want it bad enough.
In that summer of 1969 I wanted to grow up to be like Tom Seaver and pitch for the Mets. I wanted to marry Kristen B. and raise a beautiful family together. I wanted my immediate family to be together forever. I believed the impossible was possible. Of course, if you live long enough time gives you the all of the answers . I never came close to pitching in the major leagues, Kristen moved to Colorado when I was 13. My beloved Mets went on to win the World Championship in 1969 but fifty years of misery was to follow. My mom past away 10 years ago, my own family is all grown up and moving far away. Tom Seaver is still with us but can't recall anything from that summer of mayhem and magic. "Oh when I look back now I wish it could have last forever." ……. it was the summer of 69.