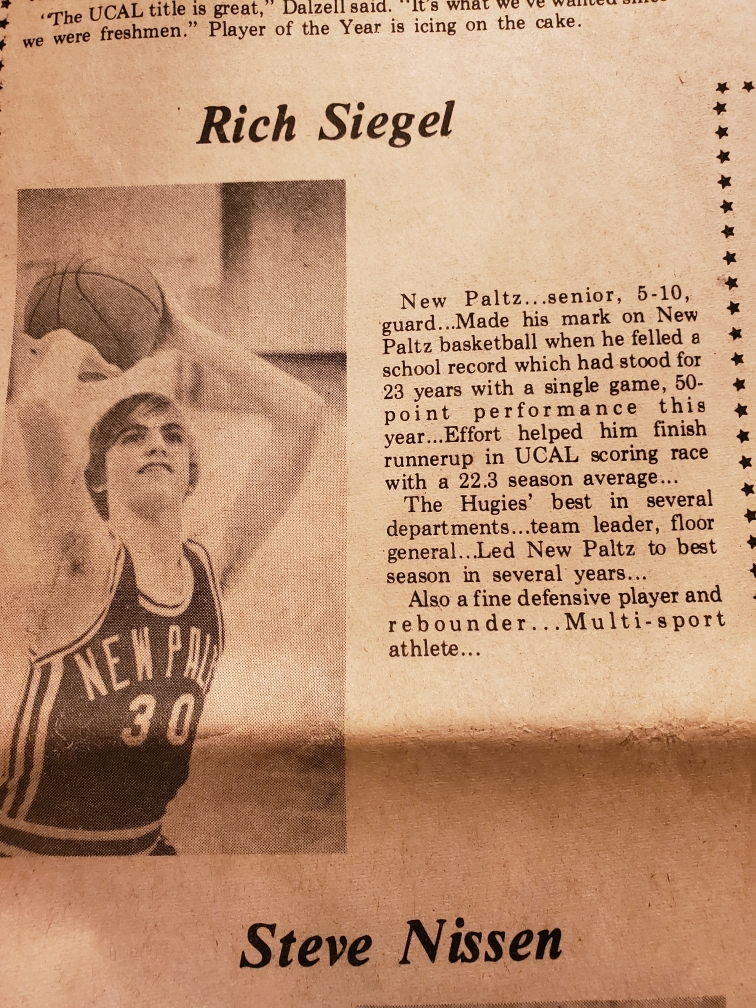 There have been many nights in the last 30 years that I have been awoken by a dream in regards to my days playing basketball. There is one that recently has haunted me. The game was tight with only seconds remaining. The lights were glaring and the capacity crowd  of approximately 2,000 rose to their feet in unison. I am running, drifting to the left side of the court, filling my lane with more purpose and energy than I ever had before. It is the winter of 1982 and my team (Muhlenberg) is trailing The Franklin and Marshall Diplomats 62-61 with nine seconds remaining . Dave (Popeye) Saylor had just stolen the ball in the Diplomat front court and the enemy fans let out a gasp. A quick glance at our bench saw my coach Steve Moore waving his arms frantically forward, "no time-outs, attack!!" he screamed.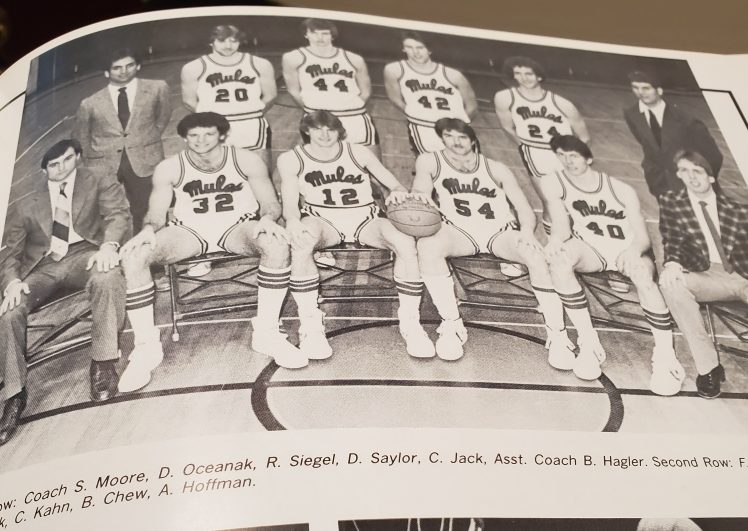 I was already sprinting when I  heard a voice inside myself that was new to me, and one I would never hear again: 'Sprint harder, turn it up, this is your moment.'  As I streaked across half court I was experiencing a new speed. Popeye, without once looking at me, threw a perfect pass hitting me in stride at the elbow of the opposition's foul line. I exploded to the basket and with my right hand softly banking the ball off the glass as the buzzer went off. Muhlenberg 63, Franklin and Marshall 62. The game didn't put us in the playoffs or push our record over .500, but it was the first time in 15 years the Mules had won in Lancaster Pennsylvania. The game winning shot is one of the few moments I had as an athlete that stuck with me as the glory years quickly faded away. Today, I still can hear the hush of the crowd as the buzzer beating runner went through the net. It happened, it was real, and though it was fleeting, the memory is vivid and lasting.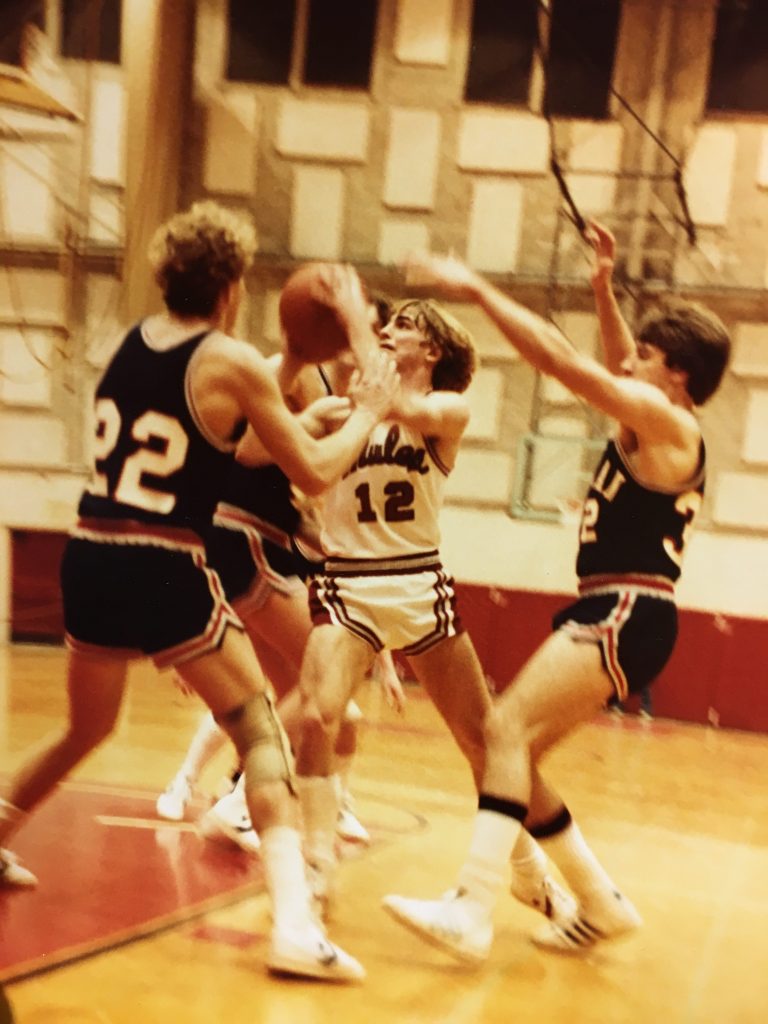 All the desire, ambition, sweat, pride and blood I had spilled on basketball courts in my young life all seemed worth it on that night in Lancaster. For the Mules, and their 29 year old first year coach it was the seventh win of the season. Coach Steve Moore, who today is in his last campaign, went on to win over 850 more games at Muhlenberg and Wooster colleges. He is 15th on the list for most wins for a men's NCAA basketball coach counting all three divisions. The Franklin and Marshall coach at the time (Glenn Robinson) is the only Division III coach ever to record more wins (950). But that February night marked a changing of the guard, there were some new kids on the block coached by a young man who was going to turn into one of the greatest basketball coaches of all time. For me it marked the beginning of the end to a basketball playing career filled with mostly losing. Inspired by this young genius of a leader, I was more than ever convinced that I wanted to teach and coach basketball. When the Mules season ended in 1982 it was clear to the people of the Lehigh Valley that basketball was thriving at Muhlenberg.  I spent a significant amount of time that spring on the road with Coach Moore recruiting and trying to get the best local high school players to come and play for a winner.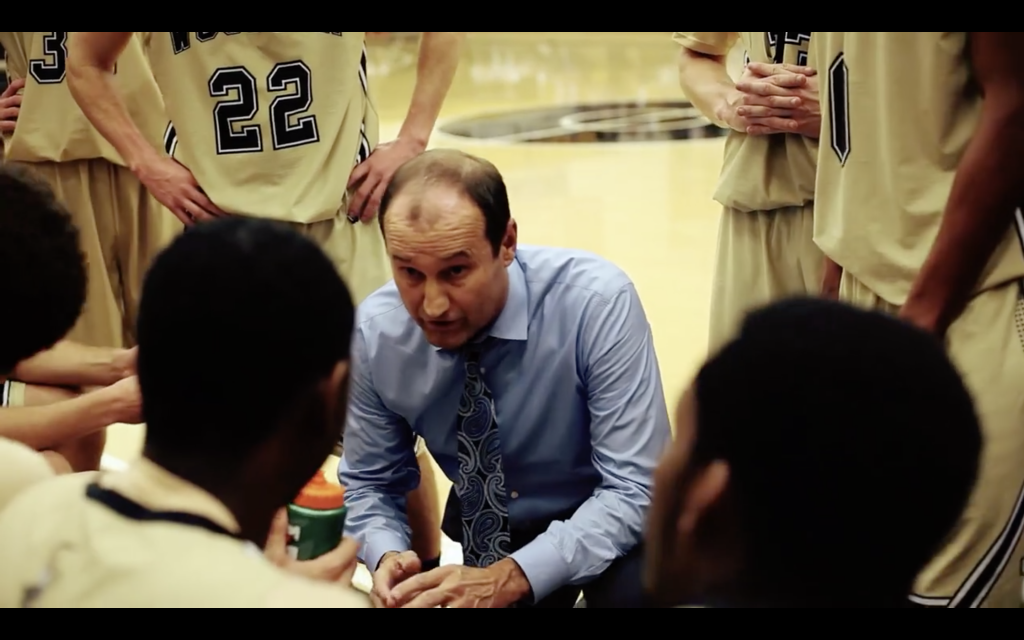 The year after graduating from Muhlenberg I took a teaching job in Pine Bush, New York as a Social Studies teacher and the  J.V. basketball coach. The three years I spent coaching the Junior Varsity in Pine Bush were as fun and fulfilling as it gets. I learned under a great Varsity Coach (Jerry Leonardi) who gave me a good look at how a high school basketball program is put into place. At 22 years old I was sure I wanted  basketball to be an integral part of the rest of my life.
Pine Bush, in 1982, was blending into a diverse school district  mostly due  to the expansion and growth of the city of Middletown. It turned out I was far more proficient at coaching basketball than I was at playing it. My teams were disciplined, patient, and played great defense. Playing the game had always been such an intimate experience for me and coaching was even more invigorating. Young men in nothing but skimpy shorts running around a sunken stage under the bright hot lights with a large crowd of fans staring down. Every move you make evaluated by the wannabes in the cheap seats. As a coach, the games took on a different meaning than they did during my playing days. When I coached, the way my teams played, and the wins and losses were very personal. I had three of the best years of my life in Pine Bush, but my mind was constantly looking for the next move. In 1985 I was hired as the Varsity Basketball Coach at my alma mater, New Paltz High School.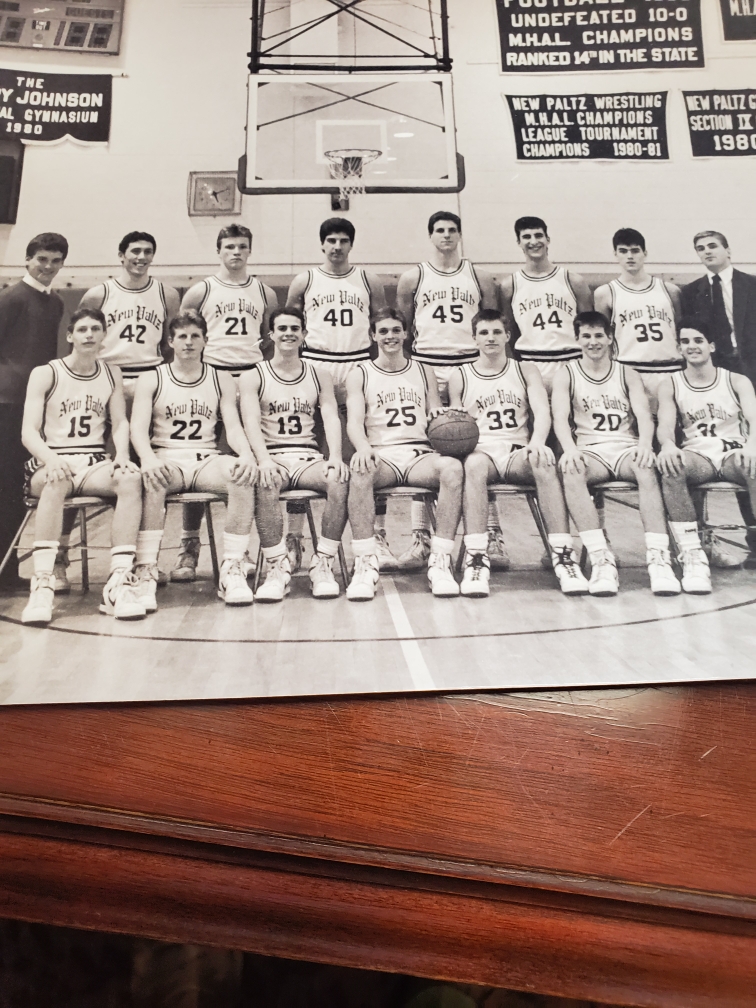 Going back to the high school you graduated from to be a coach sounds very romantic. There is something sexy about returning to a place where you grew up, and coming back to make a difference. It did present unique challenges for me because I was so determined to make my own mark. At a young age it is hard to understand the past doesn't always get out of the way. The Athletic Director at New Paltz was my old football coach and he  saw me as that punky kid back in high school that he treated like a child. And not like the determined, ambitious young 25 year old man that I had turned into. Instead of embracing my enthusiasm and vision, my old teacher felt threatened by an aggressive new young coach.
Of course, I had plenty of issues of my own. I was your typical angry young man with all the answers, especially when it came to coaching basketball. I wasn't mature enough to listen to anyone but myself. My memories of the four years I spent as the Varsity Basketball Coach at New Paltz are mostly pleasant. There were many dramatic victories, and many painful setbacks. After four intense seasons of pouring myself into what I thought would be my lifetime career my contract was not renewed to come back for a fifth season. I had many opportunities to continue coaching, even at the higher level, but looking back, I had had enough. I took my firing as a message, my 20's were behind me and it was time to move in an entirely new direction. In the fall of 1989 I got married, said good bye to the teaching and coaching profession and headed out into the private sector.
My motivation for finding my way to New Paltz college this past December to see a basketball game had more to do with friendship than any interest I had in see what a modern day basketball game looks like. New Paltz college was playing Plattsburgh, the coaches for the respective teams were old friends of mine. It had been close to 30 years since I had been back to New Paltz to see a game. I walked into the Elting Gymnasium with a sad thought of how I had lost touch of the game I at one time loved so much. There were shot clocks, three point lines, and some semi circle in the middle of the foul lane. The players were wearing long shorts and hovered far away from the basket. Players gave up lay ins to kick the ball out for a three point attempt.
I noticed on the fast break the players ran to certain spots on the court (mostly outside the three point line) which is now known as the numbered break. It was a totally different game then the one I knew in my youth. As I was thinking about if I could have survived a lifetime coaching this game a young man sat down next to me along with his son. "Coach?" I smiled and put out my hand. "It's been along time Rhett," we shared a laugh as Rhett Weires introduced me to the youngest of his 4 sons, Buck. Rhett is in his 50's and looked as lean and mean as he did in his playing days. The smooth guard was a very good shooter in the day before the world fell in love with the three pointer. We sat reminiscing about the glory days, and one particular night when Rhett had a moment like I did in that game against Franklin and Marshall. Rhett was at the foul line against Wallkill with no time left and the game tied.
His first attempt was an airball, followed by a Wallkill timeout. Rhett came to the huddle and for the first and last time in my coaching career, I said absolutely nothing. Rhett took the lonely walk back to the foul line and sent a low liner through the bucket for 63-62 victory over the defending Ulster County Champs. We talked about that night and what had become of the players who participated in that game. I told Rhett I have not regretted leaving the coaching profession, nor do I regret one second I spent on the sidelines. By the half it was time for me to go. "Rhett is was great to see you, tell Buck to stay humble and make the defensive end his priority." Rhett extended his hand and a smile, "Yeah coach, do as you say, not as you do."
Basketball, and all of its modern nuances passed me by many years ago. Still, the things that were important to us in our youth never fade completely away. Even now I awake from dreams of past basketball glories. In some of the dreams I am the hero. And some of the dreams are filled with dramatic heartache and defeat. I see myself scoring 50 points in a single game, I see myself playing four years of basketball in college for one of the greatest coaches of all time. I see Rhett making that foul shot, I see Tom Morales splashing a corner jumper to beat Wallkill again at the buzzer, and I see a Pine Bush J.V. basketball team coming from 18 points behind with only four minutes left on the clock to defeat James O'Neil. I also see myself crying in the locker room after a tough loss, I see myself going to the foul stripe against Dickinson College down one, with one second left, and missing both, I see myself getting hit with flying coins during the lowest scoring basketball game in the history of college basketball.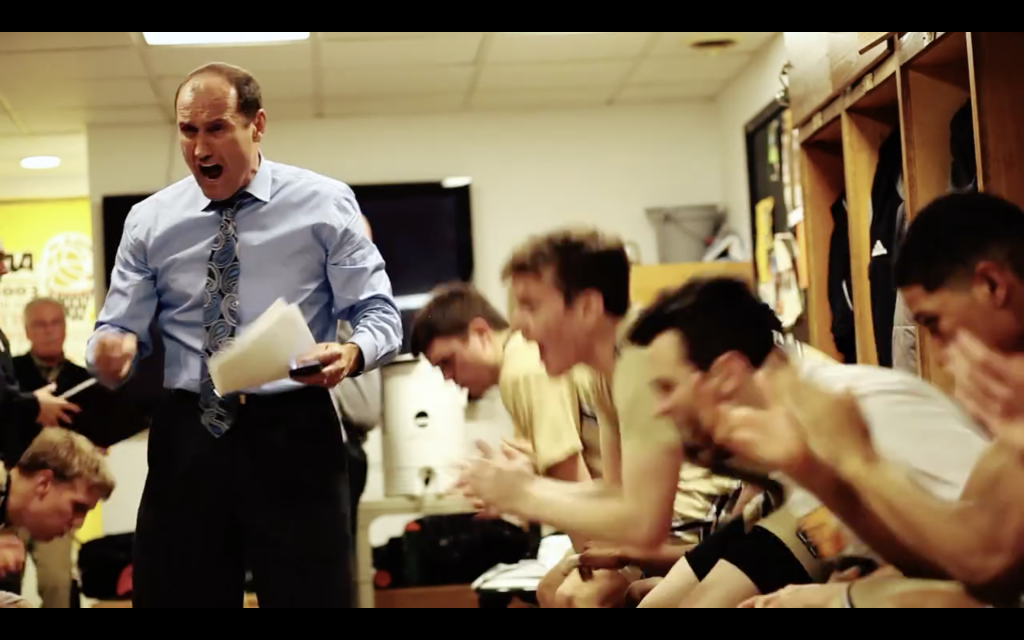 In the end, after being fired as the coach at New Paltz High, I decided to say good-bye to my hoop career. Today, 30 years later I am trying to make sense of my basketball dreams. In another month I will travel to Wooster Ohio to attend a tribute for my former coach at Muhlenberg, Steve Moore. My former coach has the highest career winning percentage of any coach actively coaching college basketball. It was just announced that Moore has been named a candidate for induction into the National Basketball Hall of Fame this spring. My mentor is retiring following the current season with 23 consecutive 20 win seasons, 17 consecutive NCAA tournament appearances, a few courts named after him, and a legion of young men who have turned out to be accomplished adults. Next month I will be united with former teammates and fantastic memories from the past to celebrate a man who meant so much to so many. I hope I can finally make peace with my own personal basketball legacy. If I get an opportunity to say a few words I will go back to that February night 38 years ago in Lancaster Pennsylvania. I was running for my life when I remembered  that Coach Moore had taught me what it was like to reach inside myself for more than I thought I possessed.
Below is a video Story on Coach Moore: