Being stuck in bed for a week with the flu leaves ample opportunity for the mind to aimlessly wander. I was so sick I couldn't muster up the focus it takes to read or write. After 24 hours of watching television I was left bleary eyed and bored. Laying in pain and having cold sweats I ended up talking with to myself, and somebody that I was calling God. Many times I begged for God to take me out of my misery, that continuing life in this state was definitely not worth it. "You can take me now, I am ready," was my pathetic refrain. Fortunately for me God does not usually give you what you grovel for. Six days is way too much time to be alone with nothing but your thoughts. I reminisced about childhood friends, girls I dated before I was married, books I've read, and friends who have passed. I thought about the places I have traveled and locations I regretfully have missed. I listed people who had let me down, and those who I have disappointed. I made plans for the personal changes I was going to make if God didn't answer my prayers and I somehow survived the devilish flu. I contemplated personal changes, that even on the edge of death, I knew were pipe dreams: give up alcohol, start going to bed by 10:00 pm every night, practice my golf game, and never tell another lie. As my mind jumped all over the place my headaches got worse from the continued pressure I was applying to my physche.
At last I got to a subject that came easy to me with and has always given me simple pleasure. I asked myself: 'what are your favorite motion pictures?' Immediately I was rattling off movies and quickly decided I wanted to narrow it down to: "My personal top 10 movies."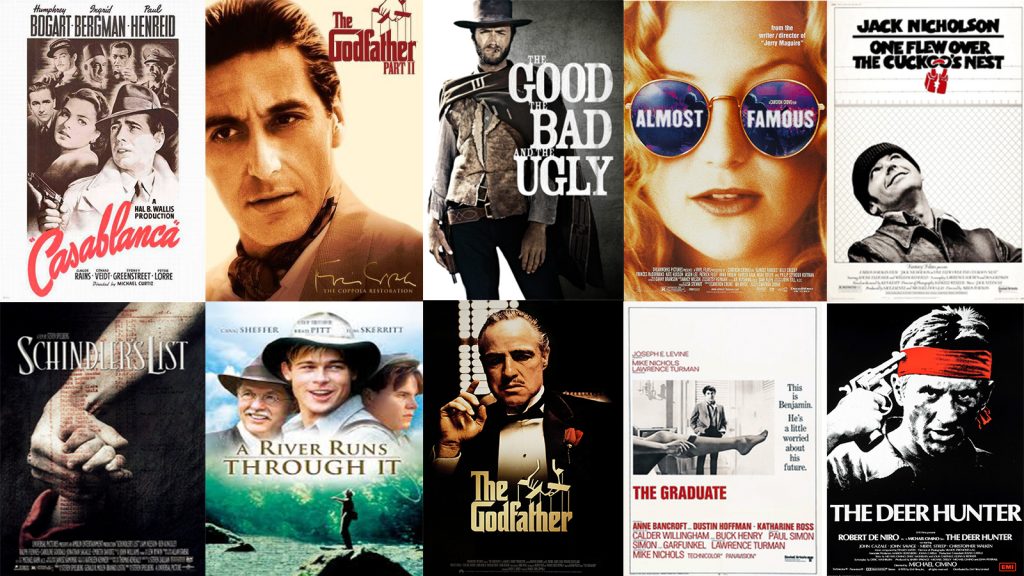 It was a fun, yet difficult task to narrow down a lifetime of movie viewing to my 10 favorites. Putting them in order was even more challenging. But this was an uncomplicated and amusing mind game so I didn't labor too hard, or too long. I was committed to not googling any lists, or deferring to anyone else's opinion (that was easy). This is my list, with off the top of the head comments and overviews. I am sure I left some winners out, yet in the end most of my picks were conventional ones. I've been a movie fan since I was a kid. I started going to the movie theater with my dad since the age of nine. Once I finalized my list a few leanings jumped out at me. Out of the my top 10, two were black and white films, four were war pictures, and only one was a love story. I was surprised that in my top ten the most recent one was made in 2000 and the oldest in 1942. My list spoke to the generation I was raised in and I pondered what it said about me personally. It appears I like what most people like in a movie, something you as an individual can relate to, something with a historical basis, and great acting with a solid story line. The protagonists and the antagonists aren't always clear in the movies I picked. It seems I am not big on comedies, or mysteries, or being scared. I enjoy seeing characters develop before my eyes and go along on the ride they experience. I don't mind leaving the theater with a tear in my eye, or a question left unanswered. This is suppose to be fun, so that is enough analysis and here we go:
1. Casablanca (1942): The first time I saw this classic I was a senior in high school and immediately decided I wanted to grow up and develop the persona of Rick Blaine (Humphrey Bogart). I never imagined that it was possible to make such an amazing film that could captivate a cynical 18 year old like myself. The primary movie set was Rick's Café the most popular night club in Nazi occupied Morocco during the height of WW II. Right from the start you believed Rick was the coolest dude in Casablanca, and quite possibly the world. He had the kind of contradicting personality of mystery and intrigue that got a grip on me and never let go. He was independent, but caring, he was cold, but affectionate, he was smug and still sincere, he was a loner, but a good friend, and he was both selfish and selfless at the same time. His lost love Ilsa (Ingrid Bergman) walks into his café one night with her husband Victor Laszlo (Paul Heinreich), a leader of the French resistance. Within this love triangle Rick is exposed for who he truly is. Add in Nazi Major Strausser (Conrad Veidt), Rick's piano playing best friend Sam (Dooley Wilson), Inspector Renault (Claude Rains, who won an Academy Reward for his part), the corrupt chief of the Casablanca police with a surprise ending and you have one of the best movies ever made.
Line I will remember: "Of all the gin joints, in all the towns, in all the world, she walks into mine."
2. The Godfather II (1974) : The original Godfather also made my top 10 list. The fact that a part II movie made it to the second spot on my billboard breaks many rules in regards to my view on part twos (I think most are terrible). Obviously The Godfather was great but in this case Part II was even better. The Godfather II takes the Corleone family out of New York and expanding their business dealings. In the second part of this saga the family is testing business opportunities in Las Vegas and Cuba as the war for control in New York rages on. In the sequel we see how the Corleone Family rose to power with fantastic flashbacks of a young Don Corleone (Robert DeNiro) intertwining scenes with the modern family with the Don's youngest son Michael (Al Pacinio) at the helm. New characters such as Hyman Roth (Lee Strasberg), Johnny Olo (Dominick Chianese, later of the Sopranos fame), and Nevada Senator Pat Geary (G.D. Spradin) fit perfectly into a story that is already rich with memorable characters. My favorite scenes are the Senate hearings that attempt, to no avail, to bring down the Corleone family.
Line I will remember: "I know it was you Fredo."
3. The Good, the Bad, and the Ugly (1966): A Sergio Leone spaghetti western that my dad told me I should check out. Clint Eastwood (the good, Blondie), Lee VanCleef (the bad, angel eyes), and Eli Wallach (the ugly, Tuco) compete to find their pot of gold and their best acting performances at the same time. The movie is set at the time of the Civil War and these three rugged individualists are loyal to no one but themselves as they play a high stakes cat and mouse game attempting to find the treasure buried in a battle field cemetery. I was mesmerized by the cinematography and the landscape that made me get an understanding of what The Civil War looked and felt like. This movie spoke to me as a war story, a mystery, and an epic tale that I appreciated more as I grew older and understood the complexities of this bloodbath between the North and South. The three carpet bagging street hustlers stood for rugged individualism before there was such a phrase.
Line I will remember: " Don't talk, just shoot."
4. Almost Famous (2000): I like coming of age stories and this is my favorite. Based on director Cameron Crowe's stint as a fifteen year old who finagles his way into doing a cover story for Rolling Stone Magazine about a band called Still Water (loosely based on Led Zepplin). Kate Hudson plays the role of Penny Lane, a classic band groupie who is in love with both Crowe's character William Miller (Patrick Fugit), and the band's lead guitarist Russell Hammond (Billy Crudup). A scene of the band and their hanger-ons singing along to Etlon John's 'Tiny Dancer' on their tour bus reminded me of of the magic that only movies can create.
Line I will remember: "Hey I met you, and you are not cool."
5. One flew Over the Cuckoo's Nest (1975): Jack Nicholson is in his prime as Randle P. McMurhy who pretends to be crazy to keep himself out of jail. It takes McMurphy a while before he figures out the old cliché "be careful what you ask for." I saw a lot of myself in Randle P. as the professional con who thinks he can get over on everybody. In the end institutions have a way of beating and wearing down free thinking independent individuals. But before he loses in the end McMurphy takes the crazies and the audience on a ride that reminds us all that it isn't always easy to determine who the real nuts are. The poker games, Randle's impromtu call of a World Series game, the outing on a boat, and getting the supposed muted Indian Chief (Will Sampson) to speak is so much fun you feel like being an inmate yourself all the way to the end.
Line I will remember: "Juicy Fruit"
6. Schindler's List (1993): Steven Spielberg's powerful look back at the real life story of Oskar Schindler, a German businessman who spends most of the World War II rescuing Jews from one particular concentration camp. The movie was filmed in black and white and is without question the most powerful film I ever viewed. At first Schindler's character was merely looking for ways to profit from the war. He opened a factory that supplied war munitions to the Nazis using the labor of imprisoned Jews. It wasn't long before Schindler witnessed first hand the atrocities being committed by the Nazi's and made a decision to do something to help as many Jews as he could. Schindler befriended the commandant of the camp Amon Goeth (Ralph Fiennes) and provides him with a list of Jews, who Schindler calls essential workers, in the camp that he wanted to bring to his factory. It was Schindler's way of giving Jews a refuge away from sure death. Spielberg made it a difficult movie to watch which was a big part of the message.
Line I will remember: "Whoever saves one life, saves the entire world"
7. A River Runs Through It (1992): Two brothers, Norman (Craig Sheffer) and Paul Maclean (Brad Pitt) born and raised in Montana are the sons of a hard driving Presbyterian minister who have very different outlooks on life. While one says he "will never leave Montana" (Paul), the other goes to college on the east coast and marries a well to do girl. What the two brothers do have in common is there love for fly fishing and for each other. I drew many comparisons in the relationship between Paul and Norman and my own brother. Paul is the free thinking non conformist while Norman lives life with regard to what is expected of him. The last scene of the movie finds Norman as an elderly man fishing alone in the waters of Montana's Big Blackfoot River. As he reflects back on the loves of his life and his family I reached for the tissue box. It was five minutes after the credits had disappeared that I got up from my seat.
The line I will remember: "All things become one and a river runs through it."
8. The Godfather (1972): What other movie can you recite so many lines from and everyone knows exactly what you are talking about? This 1972 Francis Ford Coppala classic is 100% about family and all that goes along with it. Marlon Brando plays Don Vito Corleone, the head of New York City's most powerful crime family. The opening scene is of the Godfather's daughter Connie's (Taila Shire) wedding and introduces us to all the main characters. This scene sets up the story line for America's greatest movie saga. I cannot think of another movie where the character development is handled better. From Sonny (James Caan) the hard driving oldest son, to Fredo (John Cazale) the weak but lovable middle son, to Michael the youngest son who is determined to go outside the family to accomplish bigger things in life then being part of the Mafia. Mix in characters such as Luca Brasi (Lenny Montana), Tom Hayden (Robert Duval), Johnny Fontaine (Al Martino), Jack Woltz (John Marley), Mo Green (Alex Rocco) and you have what many consider the best made American motion picture ever.
The line I will remember: "Never let anyone know what you're thinking"
9. The Graduate (1967): This movie made my list for two main reasons: 1. The haunting Simon and Garfunkel soundtrack. 2. Katherine Ross (Elaine Robinson). The Graduate was a provocative and sexy movie for its time. Benjamin Braddock (Dustin Hoffman) returns from college unsure of what he wants to do with his life. Shortly after his graduation party he is seduced by Mrs. Robinson (Anne Bancroft) a friend of Ben's parents. In a short amount of time Ben and Mrs. Robinson are sneaking off on their trists. One night while the Robinson's are visiting Ben's parents he is reconnected with Mrs. Robinson's daughter Elaine and falls in love with her. Eventually Ben asks Elaine on a date to the fury of Mrs. Robinson. The struggle for Ben to get Elaine back once she knows that he was screwing her mother is both tragic and stimulating. I first saw this movie when I was 24 and in some dark way thought this plot was every young man's dream.
The line I will remember: "Oh no Mrs. Robinson, I find you desirable. I think you're the most desirable of all my parents' friends."
10. The Deer Hunter (1978): This movie had my full attention every moment. Three young men robert Michael (Robert DeNiro), Steven, (John Savage), and Nick (Christopher Walken) are leaving their small steel town in western Pennsylvania for the Vietnam War. Before going they attend Steven's wedding and then go on a hunting trip where the events that are to follow are forshadowed. In a flash the movie takes us from the mountains of Pa. to the jungles of Vietnam. If you aren't already on the edge of your seat you will be when the three men are captured and forced into a bizarre gambling game of Russian roulette with the enemy. The intensity doesn't lighten up from there until Michael finds his way home after escaping and being separated from his two buddies. The story of these three men who were raised to be steel workers and hunters was as impactful on me as any movie I have ever seen. Like Casablanca you don't have to like war films to love the Deer Hunter. I should not forget the magnificant performance by Meryl Steep (Linda) as part of a love triangle between herself, Nick, and Michael.
The line I will remember: "One shot"
ALSO:
Here is a list of 10 other movies that I considered for my top 10 and are certainly worthy: 1. Pulp Fiction. 2. The Best Years of our Lives. 3. The Usual Suspects. 4. The Good Wife. 5. Platoon. 6. Forrest Gump. 7. The Boxer. 8. No Country for Old Men. 9. The Wizard of Oz. 10. The Shawshank Redemption.